I haven't done a
Q+A!
entry in quite a long while and I am so utterly sowwy that you folkz have had to wait this long for another. I mean, you probz have so many great tingz to share about yourselves that I am sure you'd lurrrve for me to know. Oh well, I'm sure you survived.
Anywayz...I don't get to watching the televisor too much nowadays. What wiff not having cable, all I really set aside time for is

American Idol

[aka the blood in mah veinz]

that I partake of whenever I force

Mr. Pasteeeeeeelnick

to let me crash his pad
Mr. Pasteeeeeeelnick graciously and of his own accord offerz to let me stay @ his television-equipped place of residence in

Brooklyz

.
But when I was much younger, I was quite the TV nerd festival. It's utterly a miracle that mis ojos haven't dried up and blown away like dust in da wind, considering the horaz I spent staring blankly into the boobtuberz. Cuz let's be serial, why live when TV can live

for you

?! Exercising? Nah, I got

Baywatch

. Making friends? No way, I have

Saved By the Bell

. Going shopping?

Supermarket Sweep

, bitchez! Exploring mah sexxxy regionz?

Undressed

, anyone?! All I ever needed in life I could easily find in that demon box. It wasn't until I got older that I realized what a timesuck TV can be, but before I grew up

[read as: got real people resonsibilities...ugh, SICK!]

, I was also quite dedicated to the mundo of animation, which is why

this

installment of

Q+A!

asks...
What Were Your Favorite Childhood Cartoonz?


For mah generation, I feel like there were two kinds of chilledwrenz One group of kidz lurrrved
Disney
while the other lurrrved
Nickelodeon.
And since I wasn't a wuss brigade, I obviously partook of the latter. And it was on this glorious channel that I discovered a whole clusterfuzz of characters
(tagged the
Nicktoonz
)
that would soon become my most loyal
[read as: only]
group of amigoz. But let me share wiff you folkz how
I
remember my favo 'toonz. During my final Sunday double @ the restaurant last month, I got bored waiting for peepz to order, so I drew some of my favorite Nick stars. Letz see how accurately I recalled their appearancez
[aka we already know it's gonna be pitiful]
...
Doug
This show was about some slightly manic depressed loser nerd festival
[read as: foreva virgin]
named
Doug
who no one liked and who looked like a lop-sided nutbag.
Rugrats
This show was about a bunch of lil tart babiez that somehow could speak to one another while going on unrealistic adventures where they were completely under-supervised by their obliviouz parental units.
Ren & Stimpy
This show stars a chiuahuahuahua that looked like a mosquito and a cat that looked like a pillow. It was also the source of all of mah twizzzted, vile and inappropriate sensez of humor growing up.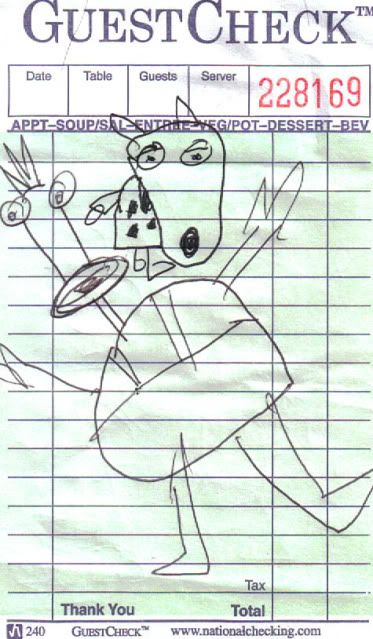 Rocko's Modern Life
This show was about a
kangaroo
wallaby that had a mentally challenged dawg. He also had a morbidly obese cow friend
[no, not

Roseanne

]
who was the greatest fictitious character ever created. Sorry,
Holden Caufield
.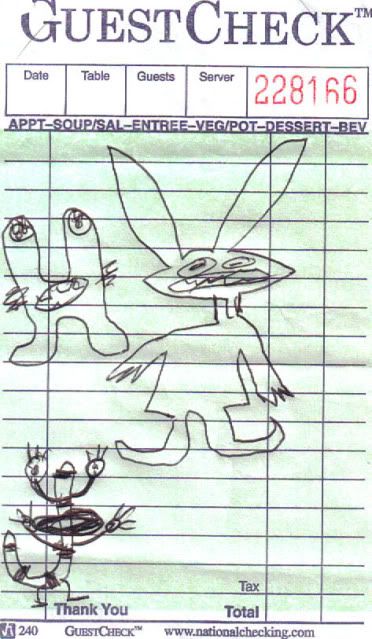 Aaahh!!! Real Monsters
This show was about a bunch of phallic/unhygienic creatures that ate bugs and tried to scare everyone in the world.
Oblina
[aka the B&W-striped candy cane wiff googly eyes and whore lips]
was mah childhood hero.
So what about you folkz?! What was

your

absolutely favo fantastico animated cartoon when you were a wee little gringo/a?!