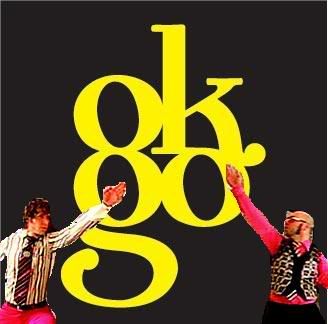 So I peeled my azz outta bed this mañana and turned on my lappytop. And what's the first headline I see on
Yahoo!
(which is inexplicably still my homepage after 3 years of ditching it as my search engine for

Google

)
?: "
Video Masters

OK Go

Spark Chain Reaction In 'This Too Shall Pass' Video
"
I kinda gruffed to mahself and rolled my eyes at this, mainly cuz I was all lyke "
Okay, Ok Go, we get it. You make cool single-shot videoz that get spread like S.T.D.s all over the interwebz. Now make SONGS that are just as memorable!
"
But I realized I sounded a touch douchey and allowed mahself to take a gander of their new music video before jumping down their gargantaz about how funky & played-out their D.I.Y. videos are getting. By now, I am sure there are prox thousands of blogs that have already written about this video in question, but whatevz, take a look and then let's discuss:
::
nom nom
::
I'm eating globz upon globz of humble pie right now
(it's a tad bitter!)
. Alright, that video was pretty effing sweeeet. What wiff the dominoes and the marbles and the golf clubs and the cars and umbrellas, paint cannons, tires, pianos, typewriters, barrels, toilet plungers...etc, etc, etc... The guitar part was GENIUZ and I adored the destruction of the TV playing their "
Here It Goes Again
" video
[feat. treadmills]
. I'm sure Ok Go got real sick & tired of being asked to perform it live and seeing desperate cholos copycat them @
high
school
talent showz
, so it's cool that they metaphorically SmAsHeD that video into nothingness wiff that sledgehammer.
Also, I LURRRVE
Rube Goldberg
machines! When I was a tot, I used to shun the world and hide out in my room playing
Domino Rally
for DAYS
[NOTE: watch this commercial and laugh @ :22 when the domino doesn't make it around the loopyloop! Crafty editing!]!
Yay!
If you live underneath Mount Rushmore and
haven't
seen either of Ok Go's other two videos, take a looksie below. Cool d00dz...I'd party wiff dem.
"
Here It Goes Again
"
"
A Million Ways
"