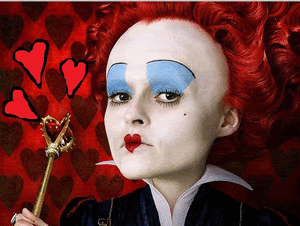 So I saw dat
Alice In Wonderland
movie that's been pimped to the heavenz since the first wiff of it was farted outta
Tim Burton
's genius hole. And it was pretty good if I do say so. It's kinda like a sequel to the original in a way via plot twists and allusionz, but it also stood outside of da primero pelicula. Basically, Alice finds her azz back in Wonderzville ten or so years after the first movie. She vaguely remembers her previous adventure as a dream and then goes on a quest to do some shit. She meets weird, effed-up creatures and it's all kinda trippy and mildly frightening.
The White Rabbit is cute. The Caterpillar is a dick. The March Hare was the unstable, nervous underdog
of the group

[aka my favo kind of character!]
. Tweedledum & Tweedledee are quite possibly the most
terrifying things
I have ever seen in my entire life. The Mad Hatter was played by
Johnny Depp
(duh)
and I felt had a larger than necessary role meant only to highlight a big name star. The Cheshire Cat was able to transform his shape to look like other peepz for some reason.
[*per note by

Dave2

]
The Dormouse was annoying and made me angry.
Blah Blah...whatever. The best part of the movie was
Helena Bonham Carter
who kicked everyone's azz as the Red Queen. She was such a bitch and I loved how she sentenced peepz to death and was mean to everyone. When we get married
(cuz c'mon...it's

gonna

happen)
, I want her to look exactly like she did in the movie. And YES, that DOES include the bloated CGI-head. Lovez her and dis movie further proved to myself that H.B.C. is one of mah favo actresses!
Grrrlfriend deserves an
Academy Award
and even though
Alice In Wondertown
probz won't get much notice, I thought she
at least
deserved a nomination for
Sweeney Todd
a couple of yearz back! I'd eat a million of her dusty bug
meat pies
if it meant I could stay in her presence forevz!
So did you see
Alice In Wonderland
?! How much did you lurrrve Helena
[feat. the March Hare]
?!