[
Hey there mah gloriouz little bloggy babiez! Rise & shine! Scrub the sleep from your precious little peeperz and get your stretches outta the way, cuz it's time to vote for your

Favo Monday Muse of March

! We have five deserving contestants and I want you gringoz to concentrate real hard to pick da most deserving. Make sure your voice is heard by voting @ the bottom of this post. Remember, your life dependz of dis!
]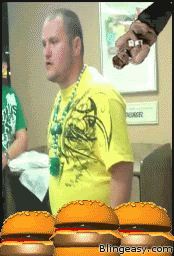 the CheezBurglar
I don't eat fa
(s)
t food that often. It makes me feel uncomfortably lumpy and after living wiff healthnut
Shawn
for nearly two yearz, I've been exposed to all sorts of disconcerting info about how processed and awful it can be for your insidez. Basically, a single burger at a fast food joint is comprised of meat from hundreds of cows that are all killed and mixxxed together under cost-effective
[read as: dirrty & not derrrrriciouz]
conditionz. The cows aren't taken care of and are oftz sick as hell when they are slaughtered. So not only is the meat largely unsanitary and diseased, but then chemicals and faux-flavoring is injected into the dead animal which explains why whenever I eat one of these garbage pattiez, I have to jump into the baño not even an hora later.
But there are some peepz that lurrrrrrrve it unwaveringly and will stop @ NUFFIN' to get their artificial beef addiction satisfied. Clearly, this d00d below is suffering from withdrawal. I tink an intervention may be in order.
Some peepz fall into lurrrve wiff other people. Some folkz get all hearty for their petz. Some personaz have deep emotional bondz with their families. And then there are some
drunken psychos
inspired individualz that adore cow flesh. Guess which one Mr.
Cheezburglar
here is!
According to the gentleman who introduces the video, this kind of swelling affection only takes place in Texas, thus giving me another reason to crave a vacation
[read as: stay completely away from]
that glorious state. I don't think this guy is asking for too much. I mean, all he did was request a cheezburger
[feat. a french fry]
and when it wasn't immediately lobbed into his sweaty gob, he did what any self-respecting member of society would do: He started cussing out rando peepz that had nuffing to do with the situation that aggravated his pelotaz.
Some meanie weenie
[read as: my personal hero]
that the Cheezburglar was belching at then begins to pick @ Mr. Burglar's open wound of burger-less sadness by frothing over how derrriciouz his food is.
Being a civilized and completely sober patron, Mr. Burglar threatens to whoop azz, attempts to whoop azz, gets a whooped azz himself and then exposes his whooped azz
[feat.

almost

p33n]
for the entire
mundo
universe to gawk at
(and then vom over)
.
And not only is Mr. Burglar booked a third-class ticket to Boo Hoo Central, but then
Paul Wall
closez out the video cackling @ this unfortunate spectacle of downright abuse. I tink whichever fast food chain dis is needz to hurl a year's worth of cheeeeeeezeburger coupons @ this delicate soul. Burgerholix are people too, and they bruise just like the rest of us.