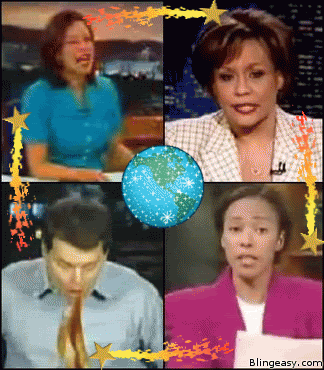 News Anchors
Back when I was still a bright-eyed young & hopeful college student

[aka two years ago]

, I took a class called

Writing & Announcing for TV Broadcasting

.

The class was unlike anything I had ever experienced before and we did all sorts of great projects. I had to write and record a local news story

[feat. interviewing a whiny grandpa landlord about how disruptive off-campus college kids are on the community]

,
put together the script and basic outline for a sitcom and we even visited the
HBO
studioz en
Nueva Nueva
. And all of these components were great! There was however, something I was terrible at, and that was when we had to play news anchor. I stunk worse than a bathtub filled wiff sweaty Stilton, gym laundries &
Ke$ha
. I stuttered, I flubbed my lines and my hair looked terrible. Howevz, I'm sure that my grade in the class would still be a point or two above any of these visionary television yapperz...
You know, cuz gay & blind are really quite interchangeable. Some days I wake up and for a few seconds think I can't see. Then I roll over and see
Mr. Pasteeeeelnick
sleeping next to me and I'm all lyke "
OOOOoOoOoOh! Gay, not blind. That's right!
"
I hear ya loud & clear,
Sue Simmons
. I oft ponder wiff disgust at the audacity of cruise ships. Sailing into our bays, taking people to far off destinations. Who the hell do they tink they are?!
Fake or not, vomming is always hilarz! Tomato soup? Hoooorah! Watch how during his bile explosion, the audio reader lights in the back shoot all da way up into the red zone. Geebz Eric, we hear you. Can you bring it down a few notchez?!
Yeah, this is funny cuz I am kind of a douchebag
(and if you laugh, then you are too)
.