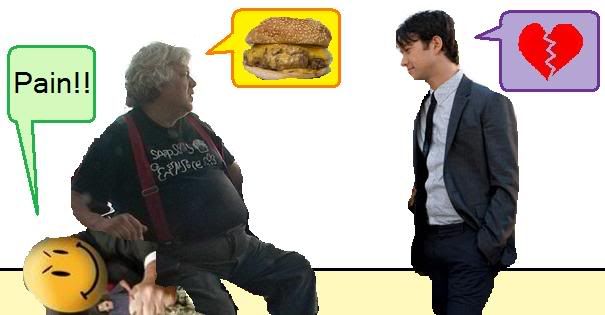 Over the weekend I had the luxury of
a)
not werking and
b)
not having anything planned to do, so I was able to sloth about mah casa and catch up with
Netflix
[aka best friend]

. We kabitzed about the weather and how beautiful it's been. Then we talked about

American Idol

and how great

Crystal Bowser's Sox

is and how uncomferz we get when forced to watch the mentally handicapped tree stump that is

Siobhan Mania

. Then we cuddled. Three horaz later,

Shawn

walked in on me spooning my laptop, so I thought it would be best to use Netflix for its main usage taking advantange of free postage! watching peliculaz! And I watched three movies that each taught me some great real life, day by day lessonz! Lemme share

[read as: judgmentally lecture you]

.
Synopsis
- This flick was a documentary about how douchebag

Wal-Mart

is apparently the gateway to Evil Centrall. I never really shopped at Hell-Mart because mis padres always yadda yadda-ed about how corrupt and disrespectful of a dump it is. And since I was young an impressionable, I did what they said and never really went there. PLUS, the Wal-Mart near my hometown was always messy and the CD section never had albums that I wanted to buy [i.e.

SoulDecision

,

Samantha Mumba

&

Willa Ford

]. Anyhoooooo, this movie pointed out the numerous reasons why Hell-Mart is
dragging the world to hell
(not in the good way)
and how you're a prick if you support it.
What I learned
- Wal-Mart hatez women, Asians, health care, the environment, communities, sad old men that own hardware stores, schools, children, rainbowz, kittenkatz, walks on the beach, candy corn and sparkle-time happiness.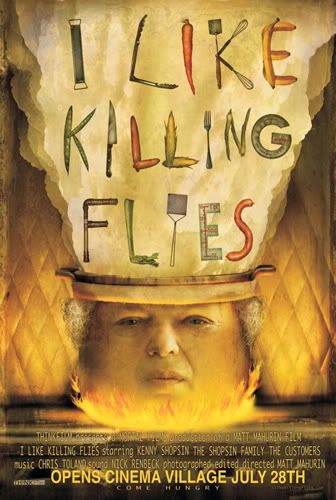 I Like Killing Flies

Synopsis -
Another documentary, this Indie flick fantastico focused on a small restaurant in
Nueva Nueva
called
Shopsin's
that's owned by the
(durhz)
Shopsin family. The patriarch of the family,
Kenny Shopsin
, is the head chef and most definitely crazzzy. The movie basically follows him around on his daily happeningz in the restaurant where he cooks bizarre-ass shit that confuses and delights a steady stream of loyal patrons. He also verbally assault
[feat. kicks to the curb!]
any bitch that comes in with a party of five or more and/or anyone that uses a cellphone in the building.
What I learned
- Kenny Shopsin is my effing hero and I wish I was him. Everyone is a piece of shit, but those that acknowledge that they are a piece of shit and occasionally do sumfing nice are in fact better people than those that don't acknowledge they are a piece shit and think they are genuinely of a great caliber. Understand? No?! IYou iz a dumbalo!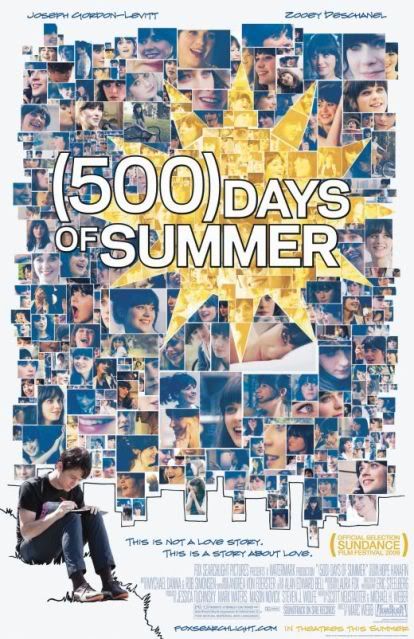 (500) Days of Summer
Synopsis

-
This is every college st00dent/self-proclaimed intellectual's favo movie of the year. It starz that used-to-be-ugo-now-is-HOT actor from
3rd Rock From the Sun
and
Katy Perry
Zooey Deschanel
. It's about how love suxxx and how it kicks so hard/breaks your bones/cuts so deep/hits your soul/tears your skin/makes your blood flow. It was arty and cute and depressing and opened wiff a
Regina Spektor

song
, so of course I dug it hardxxxcore.
What I learned
- Nothing. Considering I have been in nearly the same kind of relationSHIT as the peepz in this movie and had someone put my tender heart in a blender and watch it spin around into a beautiful oblivion, I didn't learn anything but sure was erupting with burning sympathy.