I dunno about all you cholitoz, but when I'm bored as shit, I like to donkeypunch
Wikipedia
with an unending pummel shower of bizarre & macabre searches. Weird diseases? CHECK. Famous serial killers? CHECK. Historic natural disasters? CHECK. Babies born wiffout faces? DOUBLE TRIPLE CHECK.
But none of that awesome shit catches mah attention more than researching things that actually terrify me. I know I've rambled on about how mushroomz ruin mah vida, but last weekend I found myself silently crying petrified crocodile tearzzz while I looked into the hellish abyss of my second worst fear.

HEIGHTS

.
I'm of course scurrrrrred of plummeting to my death via my ass falling of a building, but my nervousness is not just confined to that logical reason. Just looking up @ tall things gives me the runz and if I'm actually

on

something high up, well...I'd rather have

Adam Glamberpuss

murder my existence and beef on my tombstone.
So to cope with this psychological horror zone in my brainz, I thought it would be therapeutic

[read as: an easy blog post]

to share wiff all you gloriously beautiful readerz what I discovered.
In the grand spectrum of tall buildings,

the Willis Tower

is the tallest building in the United States. It's in Chicago

[feat.

Jennifer Hudson

]

and was built by a sadomasochistic butt pirate. And why do I say such a thing? Well, cuz only a douche that enjoyz torturing my heart would dare create a building that had 99th floor clear glass observation death chambers that those wiff more courage

(and less of a brain)

than myself can jump about on while staring down at the tiny world below. Yeah...fuckdatshit.
Stratosphere
Next on my tour of places waaaaay too close to the sun for my liking is
Stratospohe
in
Las Vegas
. So as
Katy Perry
informed us, Vegas is the place you go to if you wanna lose all your $$$/boyfriendz, but those aren't the only things that can carelessly slip from your slippery, pudge fingers! You can also misplace your life into the hands of the devil after you slide/launch/bounce your nalgaz off of dis pointlessly terrifying structure.
Not only is it too high for my liking
[aka prox more than 30 feet off the ground]
, but there are amusement rides up on the top as well. And by "amusement" I mean, "THIS IS BULLSHIT." The first ride is called
The Big Shot
and is one of those elevator lift-off rides that always have harnesses that aren't tight enough and always make you want to vom on the peepz below you.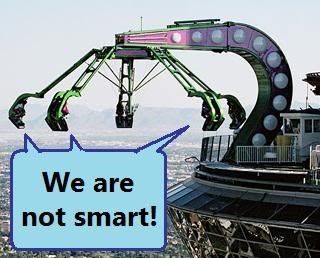 The 2nd ride on this retarded tower is called
Insanity
. Since being a million miles in the air isn't stomach-disintegrating enough, this ride spins you around and forces you to look straight down at the world below. If someone held me @ gunpoint and said I
had
to get on this merry-go-kill-yourself, I would seriously considering opting for a bullet in the noggin.
Sure, why not take a ride on a rickety piece of track that violently hurls us over the edge of the tallest freestanding observation tower in the country? Soundz exciting, right? WRONG. It's called
X-Scream
, cuz it is exxxxxciting
[aka st00pid]
. If the whiplash doesn't kill you, then the heart attack you get from even looking @ this monster zone of an amusement ride
[read as: death trap]
will.
Burj Dubai
And then there's this. The tallest effing thing in the entire world. The

Burj Dubai

is prox infinity miles high and is some twisted hybrid of a hotel, office building, restaurant, swimming pool, torture chamber and

PEZ

factory. Shit looks fake, like that palace in

The Neverending Story

. And for good reason, cuz this kinda crap should remain in fiction so I don't break out in sweat and acne rashes when I watch videos like this...phew, I'm spent.





So what about you? Are you a-scared of heights, or are you brave [read as: suicidal] enough to crave the high-altitude crazzzy town excitement that these cursed places have to offer?