Hey folkz, I know I've fallen behind a bit on the bloggy train. Stop hating me! Because of
Mr. Pasteeeeeeeeeeeeelnick
's
obnoxious, wussy devil catz
sweet angelic feline babiez fucking wiff the wires under his computer, the Internet has been out-of-commission for a few days. Since I am in the city five days a week now
(YAY!)
, I've been crashing @ his place to avoid a lengthy y hellish commute everyday. No Internet + Staying @ David's = No Bloggy Time. I know, sad. And really, I must commend anyone still alive from the
Josh Is Trashy
drought of 2010. It had to be really difficult. Did you eat the dead? How'd they taste? Well I'm back so let's get this crapfestival going...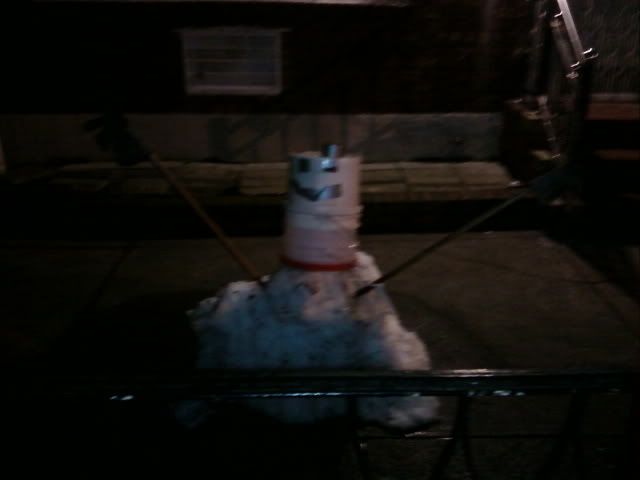 As this creative and noble
[read as: pitiful and lackluster]
snowgentleman can show you, the snow from the zillion storms we had the past few months is nearly gone. And what does
dat
mean?! THAT SPRING IS ABOUT TO CREAM OUT OF THE HEAVENZ AND MAKE OUR LIVES BETTER! Yes, I am more than a little bit aroused @ the fact that Winter will be euthanized shortly. And why is that?! Well, let's point out mah ten reasonz why Spring rulez.
1.
I can go running outside wiffout mah naughty bitz turning into diet icicles.
2.
My car can be safely driven on the roads wiffout cascading over slippery pavement and pummeling peepz in the face with its tires.
3.
Yearz ago when I was still in school, it was a sign of vacation!
(however now it's just a reminder that three-month-long breaks are figments of mah imagination...)
4.
I can have a huge celebratory kegger when
Crystal Bowser'sSox
winz
American Idol
.
5.
I can comfortably sit outside in public places and
(pretend to)
read thick novelz
[ie: Les Misérables,

Ulysses

and any of that boring crap by

Jane Austen

]
so peepz are intimidated by an intelligence I don't quite actually have.
6.
Smoothiez go back in style. Strawberry, banana & vanilla yogurt smoothiez own your azz!
7.
It's the furthest possible season from February which always is the dumping ground of mah entire año.
8.
There are fewer cockeyed holidayz to make me feel obligated to be nice to people.
9.
Muthafuzzing
Rita's
openz up
[feat. Alex's Derrrrrriciouz Cancer Lemalade]
!
10.
Even when it's raining bats and frogs outside, a storm in the Spring is still 10x more pleasant than the most beautiful sunny day in Winter.
So are yoooooouuuu looking forward to Spring
[aka duh you are]
? What do you love most about it?! How happy are you that Winter is being violently aborted
[feat. coat hanger]
out of our livez?!