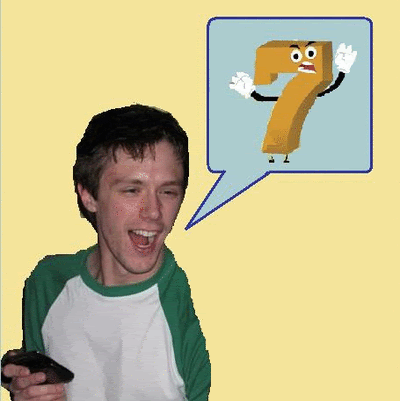 So after getting outta werk later than I wanted to during one of mah shiftz over the weekend, I came home to a freezing cold abode wiff none of mah gatoz in sight. Bored, I decided to stalk Mr.
David
's blog before heading to bed. While hunting through old entries to find embarrassing things to
blackmail him with
jest wiff him about, I found one of those goofy "
Tell-All, Share-All
" questionnaires and thought that I'd fill it out and post it so all you bloggy hoz could learn some meaningless nothingness about me! Yay! Now, heads on the desk & thumbz in da air! It's time for 7-Up!
7 Things I Plan to Do Before I Die:
- Get a book of poetry published & get rich off of it
[read as: have at least three people I don't know consider purchasing it]
.
- Be on the cover of a magazine.
- Have my own
Wikipedia
page
(preferably not written by mahself or an appeasing friend of mine)
.
- Somehow make it into the top 12 of a season of
American Idol
(ha...yeah...sure...)
.
- Get a fulltime jerb werking in the music industry in some way.
- Be covered by health insurance.
- Take advantage of the passport I got and never used and go to
any
foreign country. Trip to Canada to visit
Tam
?!
7 Things I Can Do:
- Cry at the drop of a hat.
- Whoop peepz' asses in any of the three
Donkey Kong Country
games
(nerd festival deluxe?)
.
- Spontaneously start singing a pop song based on the conversation I am having with somebody.
- Make perfectly timed fart noisez con mi boca.
-
Write devastatingly heartbreaking and emotionally jarring poetry
Attempt to write devastatingly heartbreaking and emotionally jarring poetry.
- Serve carmelized onion & goat cheese tarts promptly & with the greatest of eaaaaaase.
-
Be strong on my own, see through the rain, find my way.
7 things I cannot do:
- Stand pretentious dickholez that think their tastes are too refined for certain kinds of music/movies/books/anything.
- Ride a bicicleta.
- Do any sort of math outside of adding or subtracting. Variablez? Exponents? WHAT?!
- Drive long distances wiffout having a shaking anxiety attack.
- Live, if living is without you.
- Understand & care about sportzzz. Snooze City Central High School!
- Speak Spanish as well as I think I do.
7 Things That Attract Me to Someone:
- They laugh @ the st00pid crap I say.
- Maybe a lil' bit of gray in their hair/beard.
- DEFINED JAWLINE!
- DEFINED ACHILLES HEEL!
- DEFINED ADAM'S APPLE!
- The
P!nk
"
stomach V
".
- They don't take themselvez toooooo serial.
7 Things I Say Most Often:
- Do you love it?
(duh)
- Dumb bitch.
- Hi folkz, how ya doin' tonight? Can I start you off with something to drink?
- Ugh, sick!
- Lovez it.
- How's mah precious little
Mowglaron
/
Boobaloon
/
HermaGrrrrrl
doing today?!?
- HAAAATEz IT!
7 Celebrity Crushes:
-
Robert Downey, Jr.
-
Greg Kinnear
-
Carey Hart
-
Brandon Boyd
-
Ryan Seacrest
-
Rob Lowe
-
Marc Jacobs
(and since David's post for some reason didn't feature a 7th category, I made one up that only Enrico & I will care about)
7 Songs That Make Me Cry:
-
"
Calm Under the Waves
" -
Maria Mena

- "
Jesus Christ
" -
Brand New
- "
Thinking Of You
" -
Katy Perry

- "
The Day I Lost My Voice

(The Suitcase Song)
" -
Copeland

- "
So Far Away
" -
Carole King

- "
Today
" -
Joshua Radin

- "
Tennessee
" -
The Wreckers



So there you have it folkz! Don't you feel like you've known me for your entire vida?! Now what about you, what are you answers to this 7 of 7?!