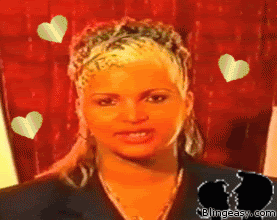 Maxine Swaby


I know
Valentine's Day
isn't for another week, but the amount of love and affection that pulses outta this installment of
My Monday Muse
was too grand to hold off until then. I have only been in three relationshitz en mi vida and let's just say that the wisdom and beautiful wordingz in dis here song fully encapsulates all the wonderous feelings
(and none of the crappy, self-centered, why-am-I-the-only-one-who-cares-about-our-love?! bullshiz)
that comes with being in lurrrve wiff somebody. There is not much else I can say. Let
Maxine
's voice cover you like a blanket and whisk you away to a world of kissy red hearts and fuzzy intoxicating warmth...
No, no, no! I know you may want to, but you
can't
leave your significant other to start an affair with Ms. Maxine. I know it's hard and I have contemplated it mahself
(sorry Mr. Sir)
, but you must remember that she lives solely on
YouTube
and can in no way be a REAL PERSONA.
I mean, for serial. That succulent orange skin, those
dead
swooning eyes wiff their
zombie
seductive gaze, that silky ramen noodle hairdo, those demon claw fingaz
[feat. fully vaselined!]
...she is too abundantly sublime to actually exist on this planet. And that voice! Well kick mah azz and call me
Lady GaGa
if it isn't what Gawd's naked angels sound like when they lullaby his holiness to sleep every night!
If the world didn't suck a lot
[aka if I could get everything I want when I want it]
, then I would totez find whatever magical synthesizer planet Maxine Swaby is from and hire
Lance Bass
to take me there so I could propose to mah one true love
(well...until next monday)
. I want to spend the rest of mah days running through open fields wiff her, watching the flowers bloom and the deer graze and the airplanes and trains go shooting off through the wilderness.
I'd get a job making sun-dried tomato curtainz
(like the ones adorning the windows of her casa)
and I'd save up so I could buy her all the stewardess outfits she could ever want. They really flatter her
shapely
figure! I'm always looking round & standing tall for this hot trick of a goddess lady. I love her sooooooo muuuuuuuuuch!
Now you all must pardon me, I have to go cry myself to sleep since this impossible dream fantasy will for def def defferz never come to troofz.
::crying & dying::
CLICK HERE
to see some of Maxine's other admirers singsongy along wiff her masterpiece theater classic!