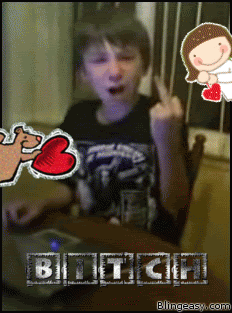 MySpace Kid


Back during mah freshmen year of college, I joined the vapid waste of nothingness known as
MySpace
in an attempt to socially network
[read as:
attempt
to find rando peepz to hook up wiff]
. I had like 300+ "friendz" that were actually 1 part peepz I know, 1 part gross hoz that thought I looked cute & 1 part shitty bands who bombarded my page wiff requests to look @ their emo bangs and listen to their shitty alt rock garbage.
Then I realized that MySpace is mad desperate and for peepz that don't have
real friendz
. So I put up a picture of mah cat, changed my name and have nearly all but abandoned it. Every now and then I go back on when I want a good laugh and I have an urge to look at retarded douchenozzlez that think they're AwEsOmErSkAtEz, but for all practical purposes, my page is as desolate as
Jennifer Lopez
's album sales.
But even when I gave a shiz about MySpace
[circa three months in 2005]
, I was never as adamantly enamored with it as this inspired young chap below. You want passion?
This
is passion:
There is nothing save my family, catz and friends that I lurrrve as intently as MySpace Kid loves Myspace. It's the cream to his coffee, the air in his lungs, and the Fla-Vor-Ice on his hot summer afternoon. And I would also completely flip my fartz if one of my siblings started sending goofball messages to mah
[fake]
friends and shaming my name all over the interwebz. Only
I
can embarrass mahself over the World Wide Web, tank you berry much!
If someone was to hack onto my page, how would I be able to write blogs about what DuMbAzZeZ my sisters are? I need to rack up my friends count in order to feel accomplished, cuz really, the truth behind a strong & everlasting friendship is clicking about a bland and possibly fictitious info page to learn nuffin' about somebody. MySpace isn't ruining my family, YOU'RE ruining my family!
::throws saltshaker::
I too would incinerate my vocal chords wiff demonic barking if my cyber personality was compromised by some dumb gringo who knew my passwerd. Go die!
::knockz over chair::
And sure, it might
only be
MySpace. But remember, you're only a stupid bitch!