Hiya all you cornballz! I have an extra special
[read as: ehh...it's aight]
treat for all you bloggy readerz out there! Tanx to some detective work by my high school co-worker
Nick
(enjoy your shout-out, kid)
who went hunting through the
Hopeless Valley Butthole High School
AV catacombs, a glimpse of moi back during my "rock 'n' roll" dayz has come to light.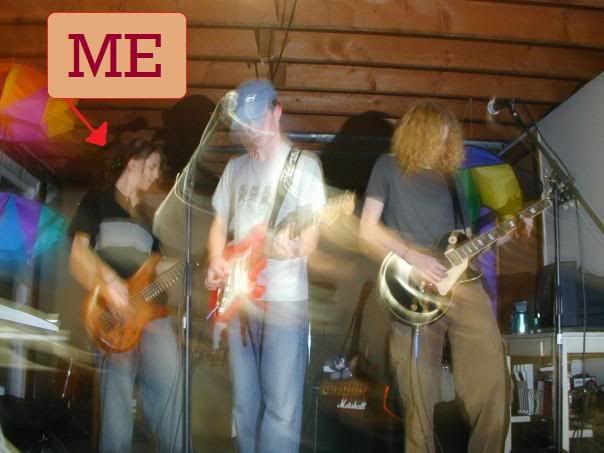 Now for all you hoz that didn't know, I started playing the bass guitar back during my freshmen year of high school. As
mentioned before
, I also
played
the cello but it was boring and nerdy and all we ever played in orchestra was the "
Hallelujah Chorus
"
[aka extra yawnz wiff a side of lamesauce]
. So I put all of mah MuSiCaL PaSsiOnZ into my bass-playing and songwriting. And of course by "songwriting" I mean I lifted crappy poetry from mah
My-Diary
account and called them lyrix.
The band was called
Big American Party
and wiff three good friends of mine
(
Brian
on guitar/vocals/mandolin,
Mike
on guitar/vocals &
Dan
on drumz)
, we started practicing all the time. We were pretty damn diligent and disciplined if I do say so mahself! We met up outside of school on the weekends and not only put together some original muzak, but tanx to Brian's brilliance, frrrealz recorded some of our songs and put out a CD! YAY! Here was what our album cover/band logo looked like: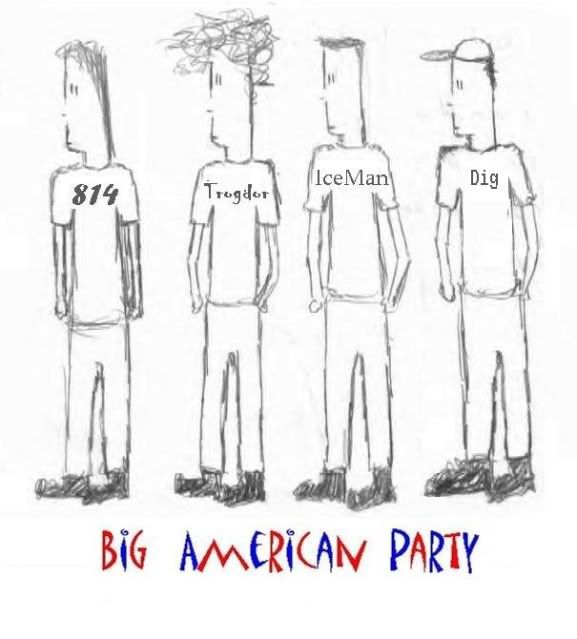 That's each of us, L-R: Me, Brian, Dan, Mike. You can try and figure out what our shirts mean, but you'd fail cuz you're st00pid
[read as: they're inside jokes]
. We had a legit website, that has since lost it's funding
(Mike's parents)
and has been shut down. Boo! We also made like $20 each off of selling our CD around the halls of our douchebag high school. Back then, that was like
$ONE MILLION
!
However, the greatest achievement of our lives was when we performed at da highly publisized
BATTLE OF THE BANDS
! I swurrr there were famous peepz there! Okay, there weren't. We played some of our originalz as well as a cover of the theme to
Donkey Kong Country
and a rock version of that "
Castle On a Cloud
" song that stupid azz
Cosette
whines all over in
Les Mis
é
rables
(Team

Eponine

Forevz!)
.
We didn't win cuz life hatez me and I'm never allowed to be happy, but it was still worth it. I tell people that the voting was neck'n'neck and that we came in 2nd
by
.
a
.
hair.
, but I don't know if any of that is true at all.
Through and through it was a great experience and I really learned how to actively function in a...blah blah blah snoooooooooooooooooze.
To get an even deeper perspective into our musical prodigy genius brainz, watch the documentary that a fan of ours,
Maddy
, made about us. Hope you enjoy the video and my interesting hair situation. For serial, why didn't anyone tell me how
fucking disgusting
beautiful I looked?!
::beef::