As I've mentioned several timez before, I sadly
[read as: indifferently]
don't have cable @ mah place of residence, thus keeping me from keeping up wiff all the televisor gossip and chatter that everyone engagez in all the time. I actually don't really give a hoot since I don't find mahself ever wishing to loaf about and just stare @ a TV screen.
Netflix
fills up mah lazzzy bones time just nicely and what wiff my schedule during the week that gets me home kinda late, I don't think I'd really have the ability to stay dedicated to any sitcoms or such.
But as unimportant as television has become to me in the past year or so, I have to admit that my inability to partake in mah favo obsession,
American Idol
has gotten me a tad blue what wiff the new season starting last month. But luckyducky para me,
Mr. Pasteeeeeeelnick
a)
has cable; and
b)
lets me crash @ his place on Wednesdays so I don't have to commute all the way back to da Dirrty Jerzeeee since I have to werk in Brooklyn on Thursdays anyway.
So last week, when we had our weekly get together, I
suggested
told him that we should go back to his place and watch
Idol
and watch guest judge
Katy Perry
verbally insult
Kara DioGuardi
. It was
quite entertaining
, but after the show, I got mad hungerzzz and asked
[read as: non-stop complained]
if we could make a snack or sumfing before I passed out and died. So we bought some
Betty Cockhead
brownie mix and got to werk...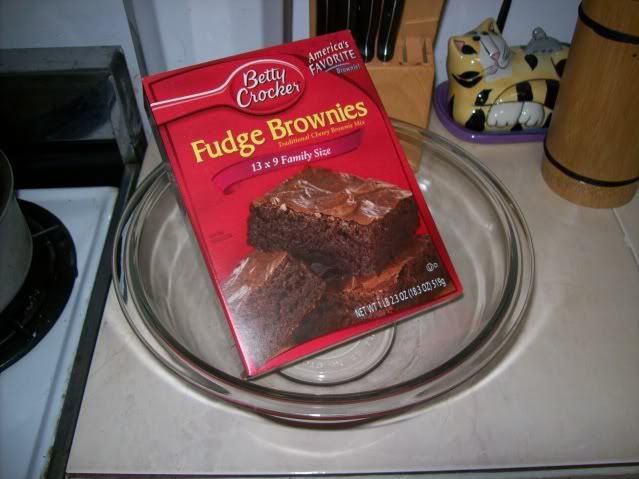 I put the box in a glass bowl and watched it for 15 minutez, yet nuffin' happened and the package remained still and unbrownie-shaped.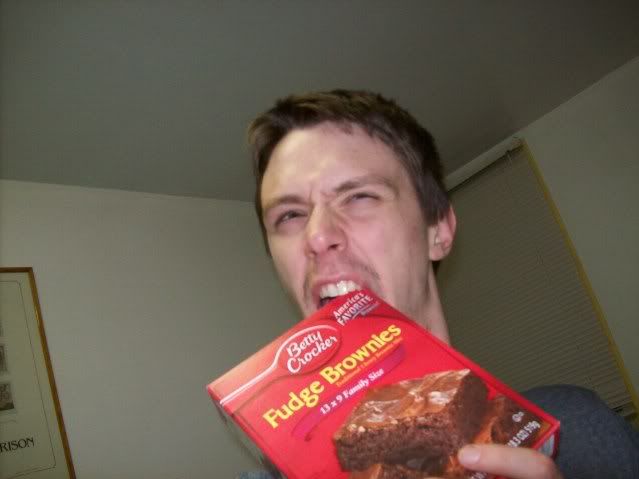 It didn't taste too hawt.
I then attempted to cook the browniez via microwaving/toastering/ovening the box, but too
very
little success.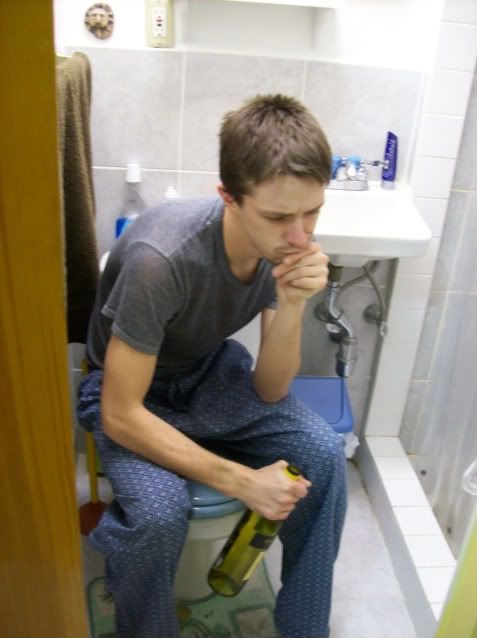 David scolded me for being a weetard, so I sulked in the bathroom and drank wine by myself...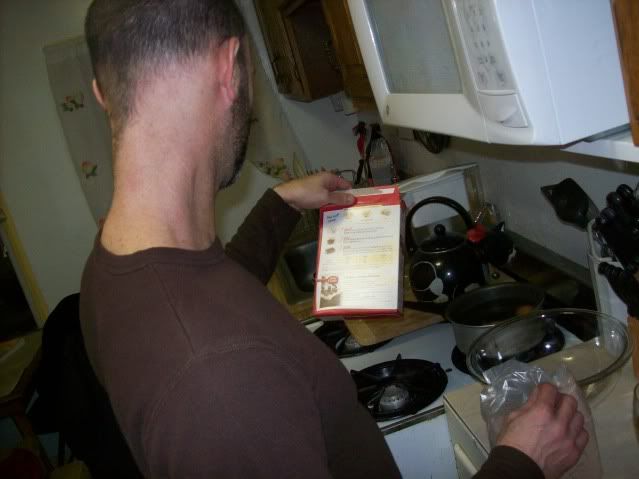 ...while David read the directionz like a normal person.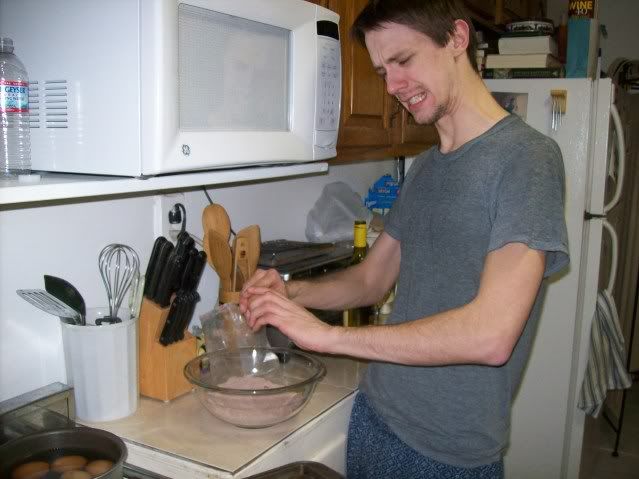 After crying for three horaz, I plopped outta the bathroom and had David read the directionz to me. First I put the magic brownie cocaine powder into a bowl and I cracked some dead pre-baby chickerz into it.
Then I posed like a desperate whore and poured in some veggie oil...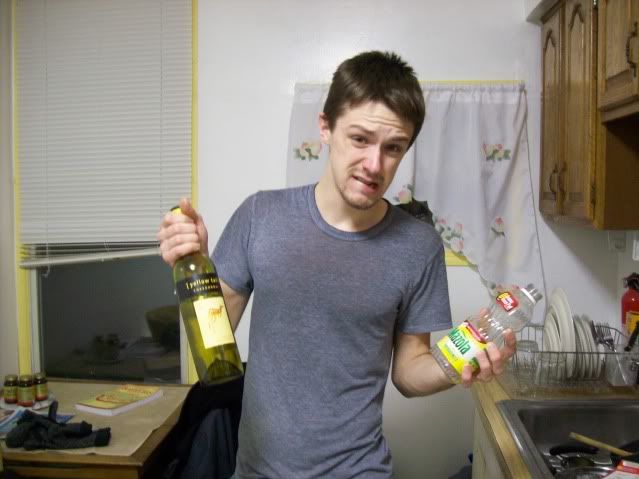 ...or did I pour in the rest of my white wine?! I don't know or care.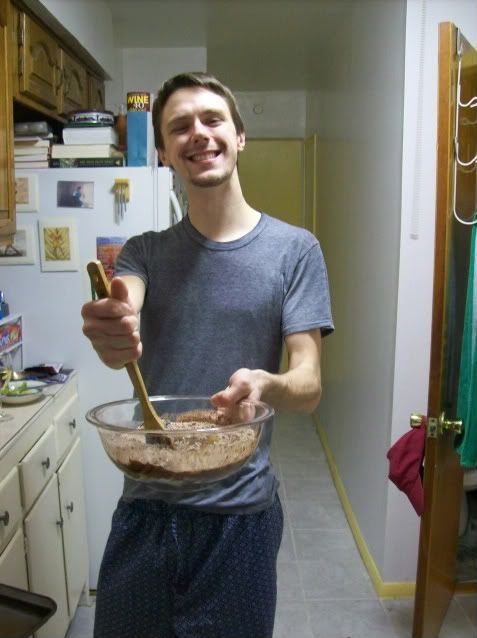 I began stirring until my arm hurt [prox 2 minutes and then David took over].
I then got confused and ate all the batter like a fat lardazz. After David was done beating me, we repeated all the aforementioned steps and put the shit in the horno before I could inhale it all a second time.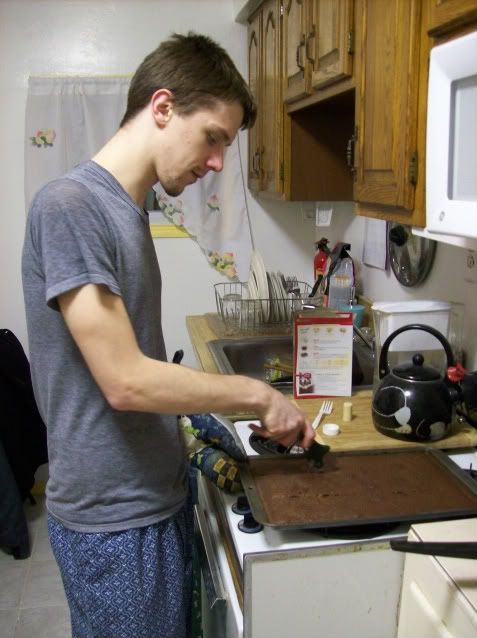 I cut them cuz I iz a good helper.
I then taste-tested all of them while a zombie Michelle Obama jealously watched me from inside the TV.
To ensure that I stay thin and emaciated, I puked all the decadent treatz back up into the toilet. Calories lead to getting fat which leads to me never being happy ever. A boy's gotta do what a boy's gotta do! And what I gotta do is binge eat and vom. Huzzah!

So who wantz to cook wiff me nexxxt time?!