This is gonna be a quick little post. Don't really know the point of it, but I just wanted to share with you folkz sumfing innnnnneresting I came across while @ werk on Sunday. As is the custom wiff many restaurantz, the joint I work at covers their tables with long sheets of paper, to keep everyting nice and clean and to eliminate the need to change a table cloth after every seating.

Since we're kid-friendly or some crap like that, we bring over little packs of crayons to any niñoz that bop on in for some grub. Most of the time, they just draw suming that lookz like dis: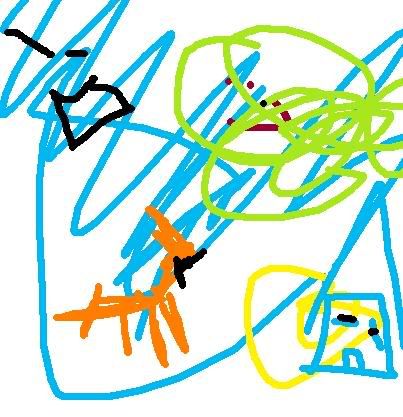 Utter crap. But what can we expect? Kids are st00pid and not good @ anything, so it's not their fault that their drawings look like a Muppet's vomit. 99.9% of the time we'll just laugh at their artistic failurez as we clean up the table and crumple up their masterpiecez and trash it. But every now and then, I'll give a double-take while finishing up mah shift. And one such moment took place while I was finishing up my brunch shift last Sunday.
As alwayz, there were a ridic number of families that came in wiff their little kids. Aside from them whining and asking for specialty eggz and shit that aren't on the menu
[feat. frustrating the hell outta the chefz]
, they tore through 1/3 of our crayon supply. But as I was stripping the dirrty plates and utensils and uneaten food off of the mesas, I uncovered a quite intriguing drawing on one particular table: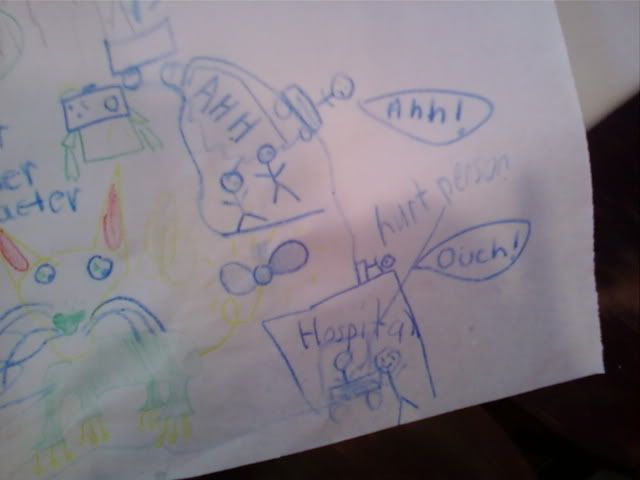 Don't write it off yet! Don't let that terrifying cat-dragon on the left-hand side completely drag you to hell
(in a bad way)
yet! It took some investigating but after careful examination I was able to dissect this brillz illustration. Not pictured is a carnival setup wiff food stands and games and shit all drawn out like a giant map to an amusement park. This picture above features what seems to be the mega roller coaster in the center of some tot's imaginary dream theme park.
But wait...
...what's that? Is that someone screaming as their FUCKING CART GOES CAREENING OFF THE TRACK?! Yes! And please place your peeperz below the coaster on the aptly named "Hospital" building that is depicted housing a "hurt person." I think I need to find the child who drew this glorious pieced of perfection and have them named the rightful successor to

Josh Is Trashy

if and when I peace out. This could very well have been sumfing that I would draw today would have drawn when I was a little retard.
Seeing this death ride reminded me of when I was younger and I used to make all sortz of physically impossible murder coasters on

Roller Coaster Tycoon

. My patrons never stood a chance! I used to rocket their azzes up into the air and not have the track finish and watch as their carts would explode all over the park. That was some real Final Destination
shet right there! Yes, I was quite a deranged child and it soothez mah heart to know that there are lil' totz out there following in my sick, sick footsteps. ¡
Viva la macabre!