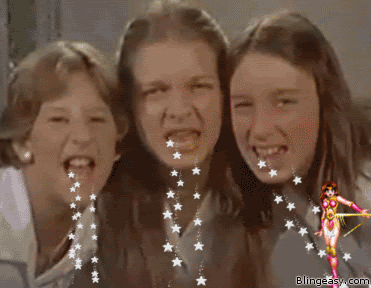 The Itty Bitty Titty Committee


I know all you hoz
have been creaming in anticipation for the beginning of 2010's
Monday Muse
s. Now, I have a list nearing 40 musez lined up, but my main problem was deciding which of the soon-to-be-unleashed lovez of your livez would be grand and beautiful enough to start off the year. I was terribly
torn
and lost mah appetite for
minutez
dayz while the voices en mi cabeza deliberated...but I finally picked a muse that will take us all back to a more simpler
[read as: emotionally vulnerable & depressing]
time of our livez: PUBERTY.
Now, I want to confirm the rumors that yes, I
am
a man and yes, I
do
happen to have a weiner. So therefore this week's muse may not
specifically
speak to my childhood insecurities, but I can still sympathize wiff all you ladiezzz out there! I had no idear that magical fun pillowz could cause so much distress for young women! Be enlightened...
Who knew changing for P.E. could be so fun
and/or
educational?!?! Sychronized dance numberz and rebel-rousing against the social cliques of the school's hierarchy?! Wowza! This genius clip is from a brilliant
[read as: more or less unheard of]
1970s movie-musical called
Junior High School
. And yes, that
is
Paula
"Seal Clap
"
Abdul
@ the end
[feat. pre-surgery nose]
. Grrrl even had her own song elsewhere in this gem about
throwing a sexxx party
. But hey hey! Let's not get side-tracked here! This entry here is about BOOBIEZ
[aka mah favo thing in the world aka I don't even understand them and I'm mildly frightened]
!
The
Itty Bitty Titty Committee
is comprised of three desperate chicaz who are all peeved off about not having ratatat patties bouncy enough to get them any boyfriends
[feat. superficial respect]
. My favorite one is
Macaulay Culkin
the cholita all the way on the left in the above pictura. She's so spunky
[aka unfortunate looking]
!
And I didn't know all you ladiez had such fantastico impromptu danceathonz while you stripped and showered!
Kick legz, point to tits! Jazz hands, towel whip! Kick legz, flash vagina!
How much fun...such great bonding! And here I am tinking it was all blood and padz and complete degradation like what happened to that fucked-up
Carrie
bitch. I lurrrve how there are groups of rando grrrlz just squating on the ground, waiting for the IBTC to saunter by so they can pop out from behind their lockers and oogle them. I guess the IBTC has its own fanz too! Oh...and please take note of how the P.E. teacher's name is Ms. Van
Dyke
. Real cute, film producerz.
Wellz, I hope you have learned to be discontent wiff your bodiez and that you have enjoyed my first installment of the
Monday Muse
for 2010! Now that's
that
! ::SLAMZ LOCKER::