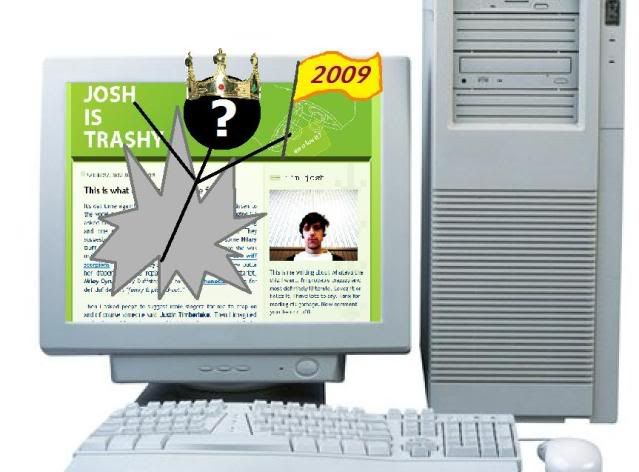 This is it
[
not
feat.
Michael Jackson

]
, folkz! The votez have been tallied and I am ready to announce the winner of the
2009 Monday Muse Showdown
! Being that the ball has dropped and it is now 2010, I think we're all chipper & ready for some new musez, so starting next week, my weekly feature will revert back to sharing wiff you the greatest tingz in my
(cyber)
life!
But what the shet am I doing?! I'm jumping a million gunz right now! We need to take care of business and announce who will be crowned the deity of your
Josh Is Trashy
lives. It was honestly a neck'n'neck race wiff
the Kittenz Commentator
&
Steven the Beautiful
pulling ahead of one another vote bah vote! But I won't yank on your grundle any longer! The
Oscar
Grammy
Tony
Emmy
Golden Globe
Kids Choice Award
Monday Muse of 2009 Mega Deluxe Award goes tooooooo...
...........
..........
.........
........
.......
......
.....
....
...
..
.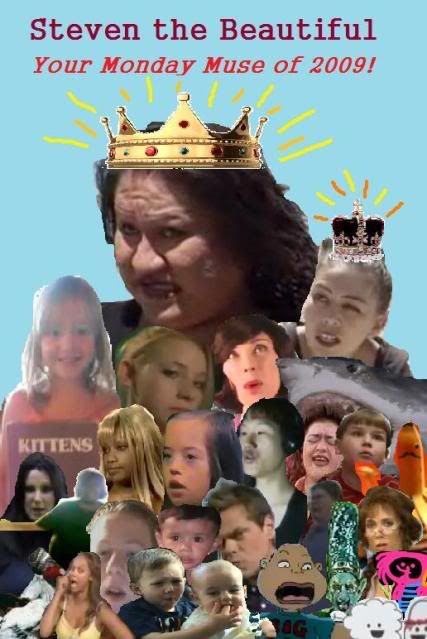 His 'browz dazzled you! His short shortz hypnotizzzed you! His face craterz aroused you! His beauty was sumfing you just couldn't seem to excuse!
Steven the Beautiful
[feat. MOM]
has beaten some stiff competition to become
your
#1 representative in
Josh Is Trashy
history. He represents everything me & my readerz stand for...life, liberty & the pursuit of your cousin
Tay
to pick you up. Let's take this moment to reflect on his gazing stare, duct tape shoez, derrrriciouz camel toe
(?!)
and his velveteen voice...
:
:reflectz::
Phew! He's too beautiful for wordz and if you thrust your peeperz over to the right side of the blog, you'll see that he is now & foreva an official part of
Josh Is Trashy
's homepage. Steven, you can use my mirror any day!
Make sure you check out 2010's orgy of

Monday Muses

, starting next week. If you have a gem of a video/site/picture/whateva that you think could inspire the world [aka the deranged handful of peepz that visit this shitdumb], please feel free to email them to me! I'm always up for suggestionz and new tingz to make me hate mi vida just a lil' bit less!