It's a very sad day in my heart. Two peepz that had chiseled away at mah nostalgia-ridden mind past away two days ago. Actress
Zelda Rubinstein
and author

J.D. Salinger

post hopped a train to Magic Cloud City on the 27th, leaving me pissed that two personaz that I remember from mah younger yearz had to be ripped from the world. I thought I'd take my entry today to pay some mad propz to these individualz for making mi vida so much more rad.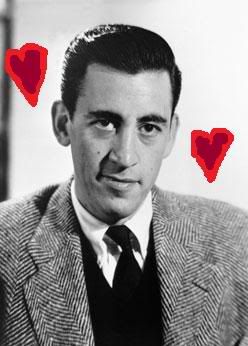 "
I don't even know what I was running for - I guess I just felt like it.
"


So
Mr. J.D. Salinger
is well-known as the genius that wrote mah favo book of all time,
The Catcher in the Rye
[feat. title wiff the best metaphor ever]
. I remember reading that libro back when I was still in high school and having mah whole life get turned on its noggin. Since this was an 11th grade English class, no one other than myself seemed to give a hoot about reading the books assigned to us, and my teacher knew this. About halfway through the semester, she gave up on even asking any of the other dumboz in mah class any questionz and each day would basically become a conversation between she and I about
this
symbol or
that
passage. R.I.P. J.D. Tanx for
Holden Caufield
, wiff whom I spent many an angsty night of adolescence channeling and tanx for an amazing book, that pretty much changed my life. You sir, were a badazz.
"

This house is clean.

"
Anyone who was breathing in the 1980s know what
Poltergeist
[

not

feat. the sequelzzz]
is and how it totally rocked the hell outta their minds when they saw it. The killer tree, the corpse swimming pool, the kitchen chair scene, the guy in the mirror, the closet demon
(and worst of all)
the clown doll under the bed...these were all iconic parts to the biggest terror shitshow of my earliest years. But none of that movie would have had any affect on anyone if it wasn't for the lady above.
Zelda Rubinstein
played
Tangina
who is a psychic hired by some retard family to save their daughter who's been kidnapped by an evil spirit that lives in the TV. Grrrlfriend is the
best part
of the movie wiff her boding visions, gremlin stature and freaky old lady baby voice. In real life, she lurrrrrved the gays and it's clear that they love her since I've seen 4 different blogs wiff dedications to her in the past few days. R.I.P. Zelda, tanx for helping us get our daughter!
Booo! I hate when people I like die!