Holy fudge! After months of back 'n' forthing and emailing and postage and
(forced)
holiday cheer, I am ready to post the picturaz from the
Bloggy Gift Exchange Bonanza 2009!
I have received photos from nearly everyone, so I thought that I should post this before it gets any later and less relative. Since the post is gonna be a thousand milez long, I thought that I might as well get this hollerdaze shitshow unda way! So grab urself some spike appa' cider, scarf down a handful of stale red & green M&Mz and sit ur nalgaz down to enjoy the festive smiles below and feel all warm inside! I command you to!
John
[feat. flopster earz]
was under the wingz of
Michelle
this hollerday season!:
"I got a card, a handmade gingerbread ornament she made herself!, some water color paper, water color paints and a

Tori Amos

CD, some candy canes and a stocking. She kicks ass!"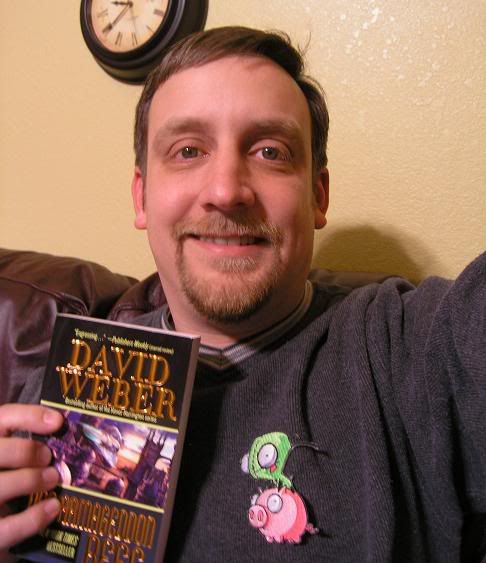 M. Nicodemus
will be busy at the beginning on this new year wiff his reading material
("Off Armageddon Reef" by

David Weber

)
courtesy of
Ryan with the Cupcake
. He also inquired about a possible
Valentine's Day
fiesta...who wants to plan it?!
Michelle
[aka

GoblinBox

]
had the great fortune of receiving a visit
[read as: gift]
from Saint Adam!:
"
Adam Sullins
sent me ZOMBIEZ and I LOVEZ THEM! Yay!"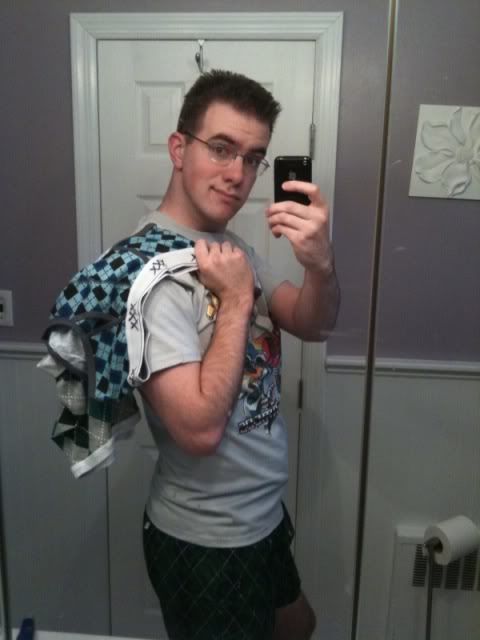 Apparently
Craiggerz
got a modeling contract for the hollerdaze this year! His gift-giver
Nathan
also bequethed him other stuff too!:
"Argyle underwear! They're awesome. He didn't know what kind I wore so he got me briefs, boxers, and boxer briefs...It also came with a VERY sexy card which is totally NSFW so I won't share it."


Mystery man
Marcus
had a beautiful holiday of self-reflection teanx to Mr.
Polt
who sent him some reading material that could have very well fallen off of
my
bookshelf, "
All About Me
."
Jere Keys
won't starve this winter tanx to
GoblinBox
:
"A care package of veggie Mexican food from Michelle Morgan who remembered

a)

that I was a vegetarian and

b)

that on Halloween I was complaining that New York Mexican food is terrible...I still haven't had a chance to cook up the food yet, but when I do, I imagine it will be fiesta time in my boca!"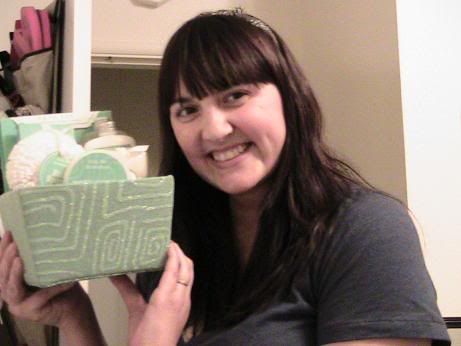 Kristen Malone
is starting off this shiny new year with a bountiful box of bathtime bliss
(I

<3

alliteration)!!
Paul
was a grade-A hollerday deluxe elf! Kudoz you, now get back to the North Pole!
Melody
got
some guy I know
two gifts!
David
[feat.

Bart

!]
can now spend his Wednesdays reading
Paul Russel
's "
Sea of Tranquillity
"
& listening to the soundtrack to
The Glorious Ones
instead of posting that gross
Wednesday Tent Pitch
! Way to go sis!
Enricoskatez
couldn't have had a more fitting gift-giver...MEEE
(I swurr it wasn't rigged)
! E. Copterz was given a holiday crying kit to ensure many nights of reflective melancholy and poetic inspiration
[feat.

The Swell Season

's new disc & poet/

TCNJ

professor extraordinaire

Catie Rosemurgy

's

"

My Favorite Apocalypse

"]
!