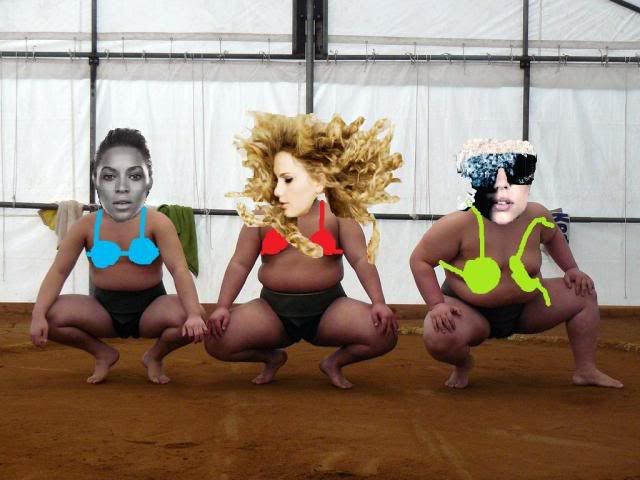 So all weekend I've been playing
Taylor Swift
's

Fearless

on repeat for good luck, hoping that grrrlfriend is able to score the

Grammy

for

Album of the Year

during the awards ceremony tonight. I posted about the award nominations a month or so ago and I know a lot of peepz are utterly indifferent to the Grammys, but whatevz...they're important to me, so chut uh.
Sadly, I won't be able to enjoy the show since I

a)

don't have TV; and

b)

am werking Sunday night. But you know I'ma be

YouTubing

the shiz out of it once I get home. As everyone

(should)

know, the Grammys are pretty much going to be the boxing ring for the three biggest female stars of the year to face-off.

Rhonetta

,

Steven the Beautiful

and

Victoria

Beyoncerz

,

Lady GaGogglez

and T. Swift were the handz down pop queenz of the year and I've been praying like...wo! that Taylor will school those other desperate, pretentious fame-whoring glamor slutz on how to be a genuine and talented musical goddess worthy of

my

hard-earned dinero.
Along wiff Miz Taylor, I'm also sending wavy good luck vibes towards

P!nk

(who's performing "

Glitter In the Air

"!),

Katy Perry

,

MGMT

,

Paramore

,

Kelly Clarkson

,

this guy

(performing!)

, this band
(performing!)
&

Death Cab For Cutie

who are all also nominated!
I actually found sumfing semi-entertaining on

Perez Hilton

last night

(I know, who woulda thought?)

and it made me laugh cuz it's an accurate depiction and a prediction that I would LURRRVE to see come to troofz...
Let's all keep our fingers, toes and pretty wings crossed that the folkz that I like win! Make sure you watch the show for me tonight @ 8 on

CBS

!