I don't get it. It makes the roadz shetty. It's cold & slippery. It melts and makes the ground sloppy and sick. So why is everyone seem so chipper about the clouds bulimia vomming up all dis snow ova the weekend?! I counted roughly 15 peepz that I have spoken to that have not only been happy about the snowstorm of this past Saturday, but have been
ecstatic
for it! "
It's pretty!
" Who carez?! It's a pain in the nalgaz to deal with and I personally wanna donkey punch the hell outta Mother Nature to teach that slut to keep her dirrty white powder up her nose and not in my backyard.
"
Damn Josh, someone woke up on the wrong side of David's bed today,
" is probably want you're thinking and I apologize. But lemmmmmmeeeeee essplain! Last Saturday night, I was told by the manager of the restaurant that I work at that I didn't need to come in for the dinner shift since reservations were decreasing due to the barrage of snow. So I spent the evening chillaxing by the fire wiff Shawn, listening to pop muzak and laughing @ the batch of videoz I'm preparing for
Monday Muse 2010
.
For those of you who don't already know, most Sundays I work a double shift at the restaurant. So I wake up at 9 the next morning to go scrap the snow off my car so I can get to work by 9:30. I get to the front door and hell to the no, there is over a foot of snow blocking everything in. Luckily
[cuz I am smartz!]
I parked my car at the bottom of our driveway, so I didn't have to go far to get onto the road. However...it did mean that I had to trek little under a quarter of a mile to get to mi coche. To prepare myself, I got on my finest pair of snowbootiez
[aka wrapped plastic bags around my feet]
: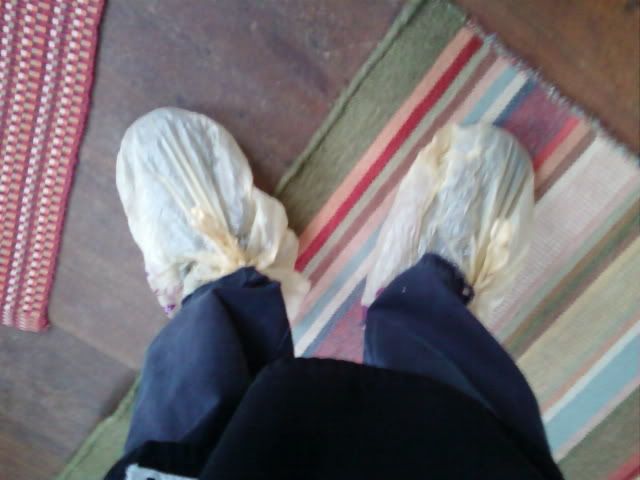 They were a great help when I took my first step into the snowy fluff and found myself ankle deep in it. I then grumbled my way to my car. This is how far I had to walk...you can't even see my house from there!: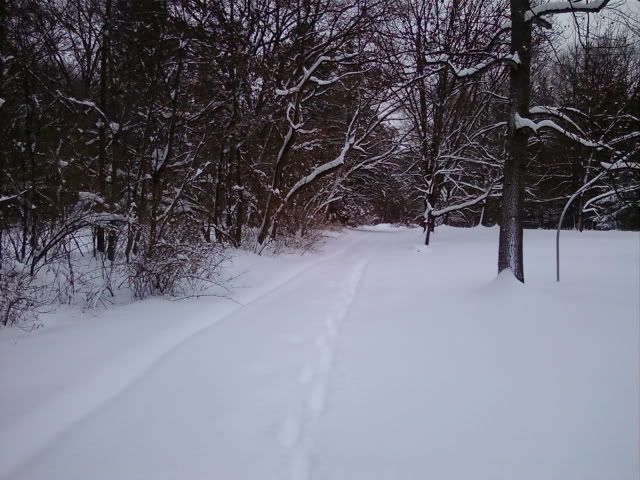 Then I found Shawn and I's poor cars freezing their tirez off at the mouth of our driveway
[feat. blocked by a snowplow's huge snowdrift]
: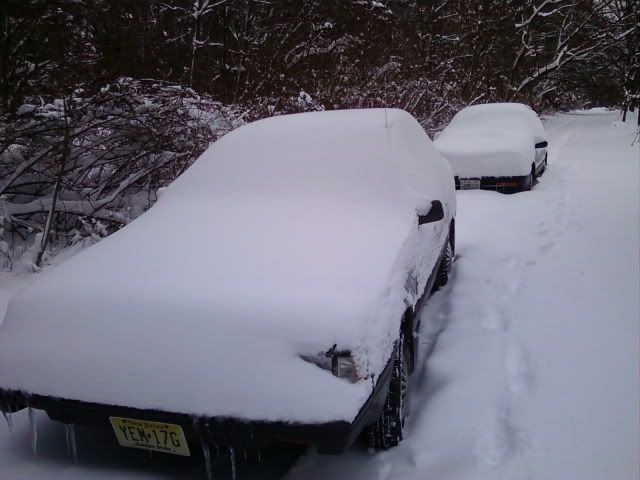 After I cleaned off
my entire car
the front windshield and 4-wheel drove my car over the snow drift, I got to werk and was bored to death. Since peepz are smarter than me, then didn't even bother to leave their houses Sunday, so in turn I only had two tables. Booo! I'm poor! I got home at 2:30 and decided to be a good housemate and shovel away the heavenly debris off our driveway before I had to return to work at 6. Turnz out that I'm more ambitious than I thought I was. I worked nonstop from 2:30 t0 5:45 shoveling and even now, 2 days later, I am still feeling the burn. Luckily for me, my
three beautiful babiez
accompanied me on my
manual labor death no-fun shovelathon
...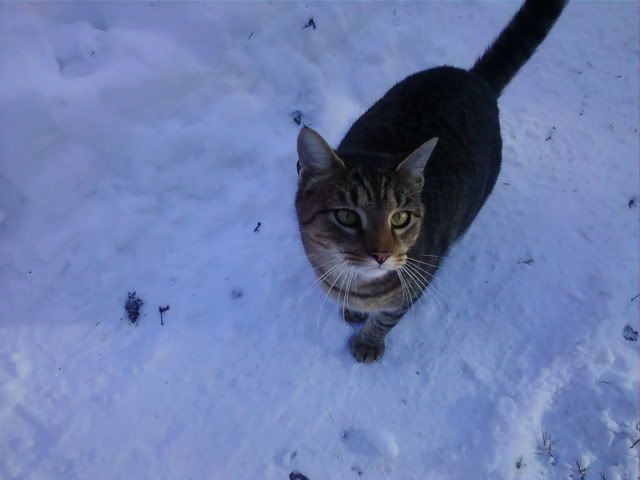 Mowgli
saying "
Herro
."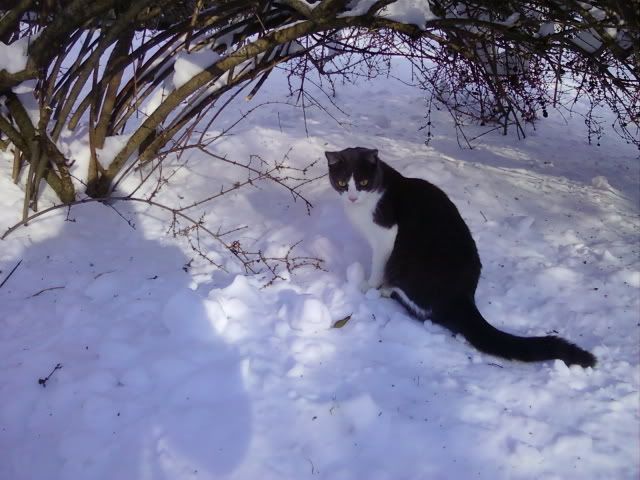 Baberz
being pissed off like me and sulking around cuz of the snow.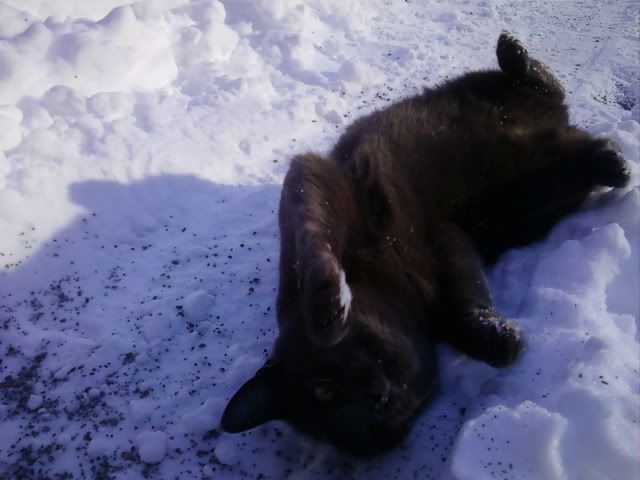 Hermanita
completely distracting me with her unbelievable beauty.
But after horaz of pain and with a demeanor so angry & seething that I could probz melt all the damn snow with my fire breath, I
(more or less)
finished shoveling the whole driveway!:
Yay! Kudoz me! So while I was working and driving on treacherous roadz and breaking all my bones via physical extremez, what were all
you
lazzzybonez up doing during the snowstorm? If you weren't on the east coast, you can still answer the question! I won't hate you! I'll just be obscenely jellerz that you didn't have to deal with this winter weather clusterfuck and harbor unfair resentment against you.