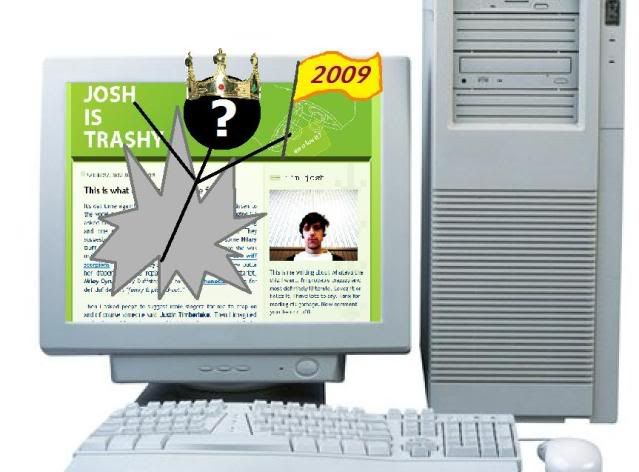 With the closest race so far this
waste of time
competition,
Victoria
just barely
edged out
the '

Rejected

' Cartoonz
for a spot in
last week
's voting! I guess detrimental teen pregnancy has a lot more entertainment value than bleeding buttholez and animated violence.
Thingz are getting heated now, dearest bloggy
slavez
readerz! Welcome to the next round of the
Monday Muse of 2009 Showdown Fiesta Deluxe Variety Hour!
You all have diligently voted for the past five weeks for your favo musez and we are down to the winners of the weekly pollz! Vote for your favorite and who you tink deserves a slot in the final 2 dEaTh mAtCh next week!
So here we are folkz...get your deliberation sombreros on and VOTE VOTE VOTE!
To recap, let me quote some respected sources
[read as: mah past blog entries]
that discussed the validity and worth of these five fine finalistz!:
Deven Green
- "
...most hilarious person on the entire Earth...informatively brilliant...I will be personally offended if you don't crap your pantalonez while watching her.
"

the Kittenz Commentator
- "
This glorious little cherub will be stealing
Morgan Freeman
's voiceover jerbz within the next five years...pure genius...I don't understand why someone hasn't given this little dahlin' her own book deal by now.
"

Steven the Beautiful
- "
...gorge specimen of human perfection...My blog just got more attractive...Those pencil-tipped lashez are just the accent to highlight an already gorgeous puss.
"
Sharks
- "...
pretty effing rad...they eat people and rip off limbz and then are given their own fucking week on the
Discovery Channel
...Who needs $$$ for decent effects when you have remedial graphic design skills and a limitless amount of documentary B-role?!
"
Victoria
- "
I wish more peepz were like this ambitious young woman ...a selfless martyr! Victoria is clearly the reincarnation of
Mama Theresa
...
goddess among goddesses.

"
Campaign away folkz! Don't forget how vital this is to your lives! IT'S EVERYTHING TO YOOOOOUUUUUUUUUU!