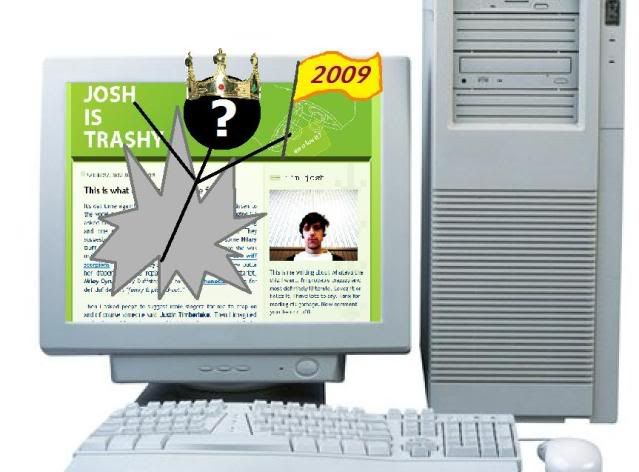 [Before I begin, I want to wish one of mah supa best friendz,

Enrico

, a happy birfday! And what a better gift than to have one the things he is most thankful for up on the ballot for this week's showdown?!]



Here we are folkz! We've made it to the last semi-finalist round of the
Monday Muse of 2009 Showdown
! But to quickly recap
last week
...I couldn't predict any front-runner for the last round's competition. But violence is
always
the highest form of hilarity, so I should have known that
Sharks
would nom nom the rest of the competition up. The
Mariah Carey Wannabeez
were a close second, but the carnivorous fish had a meager two vote lead, swimming their hungerz azzes to victory!
Now we have our last five semi-finalists! Which one of these brilliants inspirationz will duke it out with
Deven Green
, the
Kittenz Commentator
,
Steven the Beautiful
and
Sharks
for a spot in the final two face-off?! It's your choice AMERICA! Check out deez hoz:
So now here are this week's
artardz
competitors. Think hard! Pressure!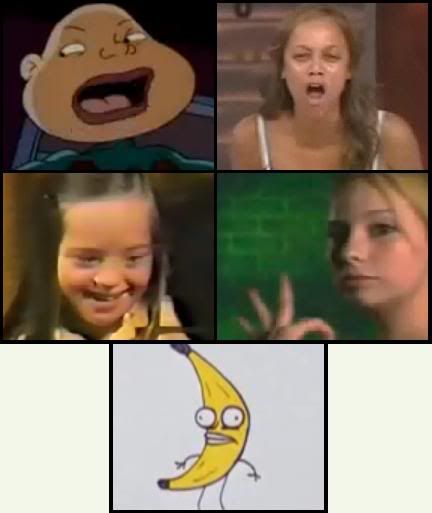 Baby Num Numz
- The haunter of mah childhood! Feed him ur votes or else he'll gobble your azz like stale
Kraft
cheezez!
Tyra Banks
- The bearer of only the most exquisite giftz! She has the power to make your wiiiiiiildest dreeeeeeeeeeeeeeeaaaaamzzzz cooooome to trooooooofz!
Jill & Family
- They say curiosity killed da cat. Well, a young
(handicapped)
grrrlz' curiousity will make you piss yourself till you stain ur pantieeeez.
Victoria
- A beautifully hopeful baby factory. She really is quite a heavenly vessel of life. She doesn't care what her mama sayz, she's gonna have a baby!
the 'Rejected' Cartoonz
- A smorgasbord of brilliant confusion. Make sure you hold on tight to your silly hat and prepare for the end of the world! Weeeeeeeeeeeeee!
Okidokerskatez! Make sure your voice is heard! Who has chiseled the biggest home in your stone-cold heart?! VOTE! VOTE! VOTE!!!!!!!