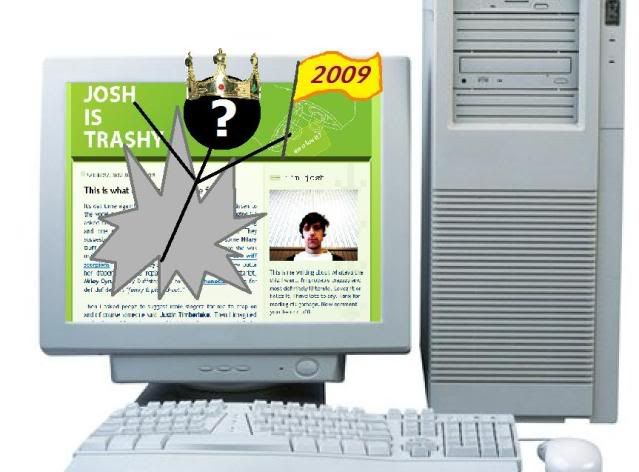 Dun dun dun! You can finally stop holding ur brefz, cuz
round tres
of the
Monday Muse of 2009 Showdown
is ova! While
Chicken TV Dinner Factory
&
Pickle Surprise
were gnawing @ each other's taintz,
Steven the Beautiful
was able to sneak on by and snag the nomination for the upcoming finalist race! You all
tried
to excuse his beauty, but ultimately you were unable to resist him & his crater face. Good jerb, Steven and try not to get sent back to Arizzzona
just yet
.
So now here are this week's
artardz
competitors. Study them vigorously & pick da one that speaks to you the most! Who inspirez you?! Who shall become the 2010 Jeebuz of
Josh Is Trashy
?!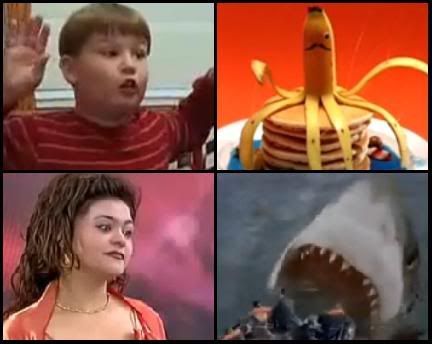 King Curtis
- Child
tyrant
prodigy who demands ur respect! Follow the rules of Team Having Fun
(he's the leader!)
and no one getz hurt
[read as: no one gets sassy sticky notes]
.
Nannerpuss
- He's reinventing breakfast! And guess what...he likez panca...::apocalypse::
Mariah Carey Wannabeez
- A duo of unbelievable talent!
Mariah
better hope she getz an Oscar for
Precious
so she can start a serial acting career. Wiff deez two beautiez tulibudibudouchooing all ova da place, MC is for def def defferz gonna lose her pop princess crown.
Sharks
- They gonna eat the shit outta ur livez! Whether you're in the ocean, up in the sky or are
Samuel L. Jackson
, you're a goner! YAY!
Come on folkz...who deserves a spot in the top 5
Monday Muses
of the year?!