A few weeks ago, I was spending some time wiff
Mr. Pasteeeeeeeeelnick
and we were hungerz so we decided to go to China and get some grub. Turnz out China takes longer than five minutez to get to from Brooklez so I got pissed and tired of walking. To chut me uh, David ordered us take-out and it was derrrrriciouz. But forget that! We all know that the best part of Chinese food is the
fortune cookie
fortune
in
the cookie. So after I smashed my stale faux-dessert into dust, I looked at what the Chinese gods
[read as: food distributorz]
had in store for me...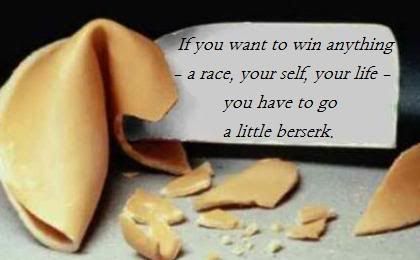 At first I was depressed cuz it didn't mention anything about the
Lamia
coming to visit me in three days and drag my excited azz to hell, but then when I actually read over the fortune, I started to appreciate its message.
[cue nostalgic reflecting on the year remembrance post]
...
This year has been a
(cliche!)
roller coaster with several huge highs and quite a few small lows. It started wiff me gettin' mi corazon broken and the emotional cluserfuck that ensued within me afterwords. It hurt like a bitch and I cried for hours on end listening to
really
depressing
music
. In order to keep myself functioning in a semi-productive manner, I plunged into side projects and work.
My jerb in Nueva Nueva side-tracked my mind into learning the world of music publicity, while I spent mah tiempo libre focusing on
Josh Is Trashy
and changing its purpose from that of a self-loathing high school-era
LiveJournal
to sumfing to make me happy and dedicated to. A fun little escape, this blog has let me talk about the (
dumbo, stoopid, fucktard)
shet that I find entertaining and has allowed me to reach out to a modest audience of personaz. It's caused me to reconnect with
a really good friend
of mine, while also meeting a whole cast of colorful
[read as: equally insane to myself]
characterz
that I look to on a regular basis now as a sort of entertaining support system.
I still constantly feel like I am goin' crazzzy. My anxieties are always racing and I am perpetually expecting a straight jacket to be slung around my emaciated torso at any second, but through all this chaos and bull to da shit I've been able to pick my crying ass up off the ground and create a person that sucks just a little bit less than the person I was 365 days ago.
This isn't going to be my last post of the year
(I still need to do my

End of the Year Supa Fiesta Media Splashdown Thunderclap Round-Up

, of course!)
, but I thought it would be nice
[aka oddly vulnerable]
to share with you this little wink of reflection and to remind you of what we all already know...the Chinese know everything.