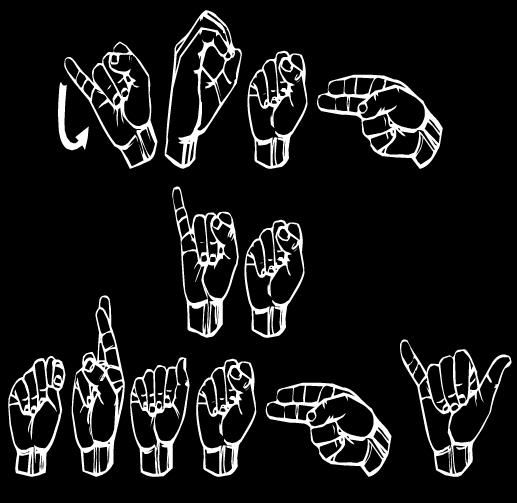 Last week, a friend/co-worker of mine named
Sara
posted sumfing quite innnnnneresting on mah
FBook
wall. Sara & I for usualz
work
suffer through the Sunday brunch shift togetha @ da restaurant and keep each other sane by picking a handful of rando pop songz to sing to each otha throughout the shift. When all of our tablez finally get the hint that we don't want them there and peace out, we turn off the borrring azz acoustic bullshit coffee house radio station and turn up the top 40 pop on the
Sirius
satellite radio. Then as we clean up, we dance around and sing loudly and ignore the screamz in the back as the kitchen staff threatenz us wiff pain if we don't chut uh.
Now you might be wondering, "
What the shit does dis have to do wiff the sign language you have up above?
" Well, fuck off and let me esssssplain! Last week, Sara and I did a particularly
upsetting
beautiful duet of
Miley

"
Stripper Pole
"
Cyrus
' "
Party In the U.S.A.
" That following Tuesday, I check mah Facebook to see dat my dearest Sara had posted a video on my wall as an homage to our fantastico Sunday sing-along. Just watch and fall in lurrrve:
WHAAAAAAAAT?! Why didn't I major in sign language in college?! This is for def def defferz one of da coolest tingz I've seen in prox forevz and I totally jellerz of this cutie smartypantz
(his name is
Stephen Torrence
)
& his ability to make pop muzak even more fun that it already is. It is mah life's game to learn this entire routine and then fail to impress mah friends when I drunkenly butcher it @ a whore party. DREEEEAMZ! Mah favo parts are his expressive facial emotingz
(look how excited he is for a
Britney
song to be on!)
and the sign for the lyric "
movin' mah hipz like yeah!
" ADORABLE!
Well, I did some research
[aka looked about
YouTube
for three minutez]
and found that there are quite a few peepz that do this
ASL
"singing." I find it absolutely fascinating and am dead serial when I say that part of me wantz to learn my azz some sign language so I can mooch off of these other peepz' idea and post videos of me doing the exact same thing!
Check the videos below to see two other cool katz take on sexxxy pop jamz and succeed wiff flyin' colors. The guy in the first vid
(

Jeremy Neiderer

)
is enthusiastically dancin' along to "
Waking Up In Vegas
" by
Katy Perry
, while the video under that is of some hot piece
(

Michael DiMartino

)
doing
Britney Spears
' "
Womanizer
"
[feat. scene changez and a naked torso]
. Enjoy! I expect a copy of
Sign Language for Dummies
to be waiting in mah mailbox for me some time later this week so I
too
can
communicate wiff those who are stricken con deafness
make cheesetastico videoz and post them online!