I had the fortunate opportunity of being able t0 spend last weekend wiff mah beau of sortz,
David
and it was quite a loverly time! Since he is much more prompt in blogging about our outingz togetha
[feat. an actual post with actual information written coherently and intelligently]
, I think I will let him provide all you nosey folkz wiff
da detailz
. The reason I am posting is to highlight one specific thing that happened to Mr. Pasteeeeeeeelnick and I during our outing.

We had just gotten done wiff dinna and David wanted to show me around his neighborhood. We saw a bunch of rich Brooklyn peep housez that I will alwayz be too poor to live in and as we made our way around the third block of wall-2-wall mansionz, I saw sumfing glowing down the street...

"
Is
Ali Lohan
around herre?! I smell
Christmas magic
!
" I may or may not have shouted to no one. This mass of colorz and blinding lightz made me tink for a hot second that
Deep Impact
was for serial and that a blazing space boulder was crashing into the Earth. Then I realized that I was stoopid and progressed closer to this wonder.
As we walked further down the block, the snowmen on the frontlawnz began to look more and more dead
[read as: melted]
which I
arbitrarily
scientifically concluded was due to the heat emanating from the orgasmic neon clusterfuck just a few housez away. Luckily for me, I had special mega shield sunglasses, so I was able to approach the lightz wiffout my retinaz exploding. Unluckily for David, he
didn't
have said glasses and went blind almost immediately upon setting his peeperz on the glowing mass.
After I safely dumped poor David in a nearby bush, I went to investigate this monstrosity of wonder. I grabbed my supa scope telefoto camera
[aka my cell phone]
and snapped some picturaz...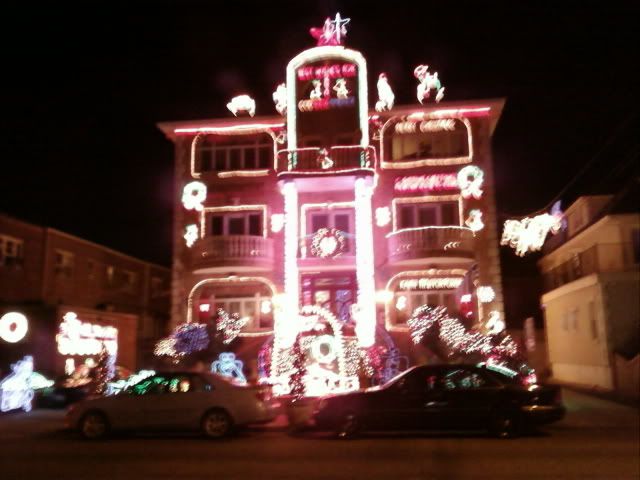 No, it wasn't a flock of demonz dragging an elephant to hell, and no, it wasn't the apocalypse. It was just somebody's
(unnecessarily large)
house decked to the fuzzing hallz wiff Xtinamas lightz! From the pained bramblez where he laid, David barked about how these hoz pimp out their casa like this each year. I ventured as close to the house as I could wiffout my skin frying like bacon
(derriciouz!)
and snapped anotha pic to highlight how incredibly redic the whole thing is...
It's like an electro lady-gingerbread land! And get this, the house has mothereffing Christmas carols screeching outta of itz gob. Blinding
and
noisy! It's so glamtastico that I don't even think
Rhonetta
and her sparkle-bootz could handle its chaos! After I puked up mah entire life and fetched a crying David out of the bush, we made our way to the hospital and got him an eye transplant
(but don't mention it to him, he's still touchy about the whole incident. Drama queen!)
.
Yesterday, while I was reflecting on the wonder I had beheld and savored the fact that I was
lazzzy
smart enough to avoid the hell of taking down burning inferno Xmas decorations by not putting them up in the first place, I found a post on a blog called
Mental_Floss
about other crazzzy kookoo nutz holiday house get-upz.
CHECK IT OUT
...I personally like the one of the guy clinging onto the roof for dear life...
Kidz:

"
What are we getting for Christmas this year Mommy?

"


Mom:

"

Your father's impending death via hanging up those fucking retarded lights.

"