Since mah last post about
a traumatic happening
in my life was such a hit
(22 commentz!)
, I thought I would share anotha little tale wiff all you bloggy folkz about sumfing terrifying dat happened to my dopey azz while I was in college! Yay!
Now I went to
The College of New Jersey
in Ewing, NJ. It's prox fifteen minutez from Trenton and is plopped right down in a more or less residential area filled wiff little communities and neighborhoodz. En mi universidad, once you become a Junior, on-campus housing starts to become very limited. So therefore a large number of peepz will move into off-campus houses for their last two añoz at school. And dat's exacterz what I did.
What's even more surprising than the fact that I went to college
(and graduated!)
is the fact that I actually had friends that
chose
to live with mah maniacally hysterical existence in one of these said housez! Me and four friends moved into a cute little abode
[feat. anxiety-provoking landlord]
that was prox a three minute drive from campus. We went about our Junior year brilliantly. We all got along
(more or less)
, had fun, got good grades and really got a taste for being on our own.
The summer rolled around and while all mah friends moved back to their parent's houses, I stayed in Ewing. My parents were relocating to a smaller casa with cheaper rent, so I wouldn't have a room to crash in when vacation time came around. So I moved the rest of mah crap into my college house and set it up as my perminent residence. And June ticked by and it was great! I could have
rando whorez
friendz ova whenever I wanted and I really got a feeling of being independently stable, both financially and emotionally.
Even though our landlord freaked me out wiff his occasionally unannounced visitz & his snappy punkazz attitude, the house was a pretty peaceful place. Our neighborz ignored us and we gladly ignored them. There was a disconcerting lot of peepz that lived in the house across the street though. They were always up mad late and for some reason they gave me the goosingbumpz. But I shrugged off such worriez and minded mah own beeswax.
Anywayz, the story
really
beginz about a week after the 4th of Julio. I was up in my room pretending to be butch and playin'
Resident Evil 4
. It was about one in the morning and I was goin' about shooting evil zombie douchez like it was nobody's business. Right during a massive showdown wiff some chainsaw-wielding crazy bitch, I heard a large bang outside my window...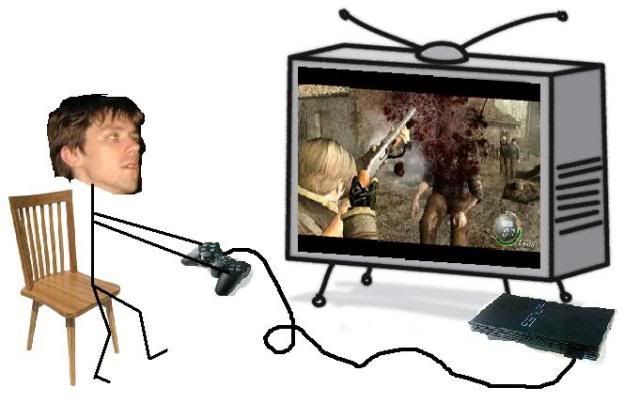 ...I paused the game and poked my nose outside the blinds. All I saw was a car peel away from in front of my sketchy neighbor's house across the street followed by the lights in the house all suddenly get turned on.
Now, seeing as how I am easily jarred and prone to becoming paralyzed wiff anxietiez, I have had to learn how to control my emotions and try and calm mah goofy butt down. To keep my sanity, I coerced my mind into believing that the large
BANG
I heard was just some silly little friend of my neighbor who had an extra firework from the festivities a week befo. This little story I conjured up actually kept me reasonably calm and even allowed me to get to sleep.
And I woke up feeling reasonably alright. I went outside to get into mah car so I could go and be miserable during mah double shift @ work...and what do I find??? The creepster neighbor house literally covered in caution tape...
And what did I do when I saw dis along wiff the two police carz parked right outside mah house? Ignored it, of course! I pumped mahself wiff such delusion that I even ended up fabricating a story to my co-workers about how noisy those fireworks were, just to further convince mahself that absolutely nuffin' scurrry happened and that everything was gonna be all fine 'n' danderz.
Then I got home and received a phone call from my one housemate who was @ her parent's house during the break. She told me that that her dad was reading the news and came across a breaking story about a shooting that took place @ the monster house across the street. Turnz out that the Bloodz lived across the street from us and the personaz who parked in front of
my
house and shot at them were the Cripz. "
Um...WHAAAAT?!
" is what I shouted @ her and when I was done cleaning the crap outta mah trouserz, we called our other housematez and set up a plan to break our lease and move out of the neighborhood.
Oh our landlord was pizzed off and tried to convince us to stay via adding new locks to the door and putting in security lights, but we kindly declined saying "
FuCk NoOoO, bItCh! DeM LiGhTzzzz & loCkz aIn'T GonNa sToP deM BuLLetZ fRoM EntErIng OuR PRECIOUS sExxxxxxXy bOdiEz!
" Then we packed our bagz and booked our azzez outta dat hellhouse.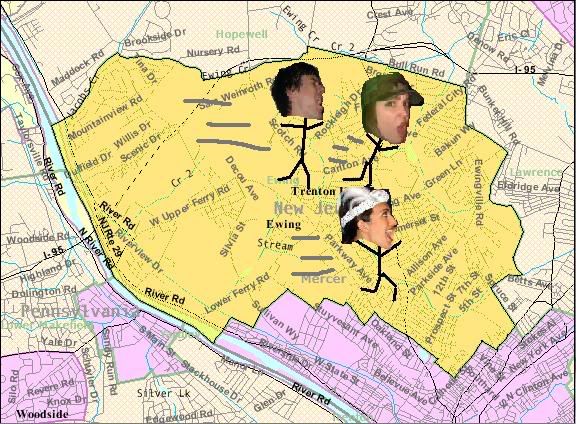 Within three weekz, we found a new place in another neighborhood and lived there comfortably for our last year of college. The house was actually across the street from the
New Jersey Department of Transportation
, which I believe is not common ground for gang-related shootingz. Then I got mah diploma and moved in wiff
Shawn
where the closest thing I have to worry about endangering mah life are
my cats
' clawz desperately scratching for protection when I try to smother them wiff mah love and/or affection.