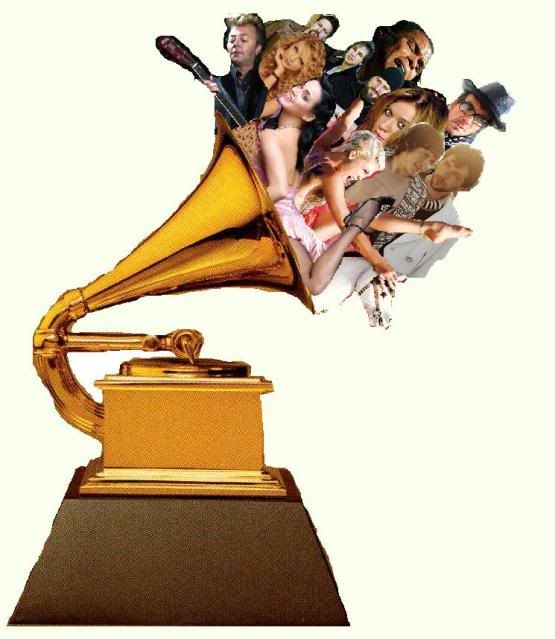 In an hora, I'm heading out wiff my sister to visit mi otra hermana, but before I jet I thought I should make a brief commentary on this year's
Grammy Awards
. Since muzak is mah life's obsession and the one ting I lurrrve more than everything else en el mundo combined as well as what I spend three dayz a week workin' in, it can be imagined that I was waitin' with baited breath for the nominations to be announced on Wednesday. I was out wiff
David
, seeing a play he helped with
(

Orpheus X

- intensely imaginative, devastatingly thought-provoking)
, when the nominationz were put up. I got a message from mah BFFLz
Enrico
telling me that "
Sober
" by the goddess of my existence,
P!nk
, scored a surprise ballot! So of course as soon as we left for dinna, I Googled that shit on mah phone!
AND YAY! For the first time in forevz...I am actually quite pleased wiff this year's selection. Of course
Lady GaGogglez
[feat. blatant & desperate fame-whoring]
got a bajillion nominations and
Beyonc
é
predictably got the highest number of potential statues, but some of mah favorite artists of the year also got nodz: P!nk,
Taylor Swift
,
Katy Perry
,
MGMT
,
Kelly Clarkson
...while
some
artists
that I have a special
professional
connection
wiff also got a fair showing! YAY!
Congratz to everybody I like! Let's all be sure to keep our fingaz crossed for "
Funhouse
" to win
Best Pop Vocal Album
(and yes, I

am

the person who added "Grammy-nominated" to the first sentence on that

Wiki

page)
!