[HAVE YOU VOTED FOR THIS WEEK'S MONDAY MUSE OF 2009 POLL?!]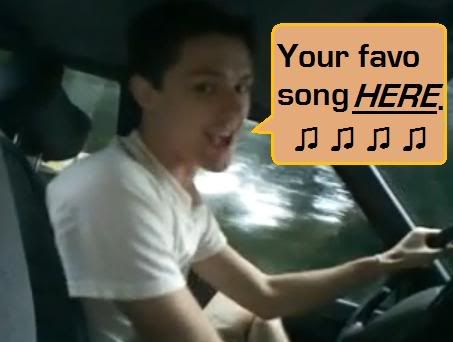 As we all know, I like to pretend that I have tiny bitz of musical talent floating around aimlessly in mah body. As you also may know, I like to
post videoz
of me displaying these
[fictional]
skillz while operating a motor vehicle. If the NJ DMV ever see mah videoz, I bet they'd rip that license outta my wallet faster than my student loanz do to mah money!
Wellz...most timez when I post some singysong vidz, I get peepz commenting on songz that they'd like me to sing en la futuro. So I thought, "
Why not let the hoz that like watching me sing growl like demonz from hell pick what I sing next?!
" So comment below wiff what trax in the following genrez you'd like me to murder and it's a possibility that I might make all your wildest dreamz come truuuuuue!
Twangtastic country song...
Badunk-adunk hip-hip song...
Sunshiny pop song...
Crusty old person song...
Sparkly Broadway song...
Scary hardxxxcore rock song...
I'm your music slut! What do
you
want me to do?!
::wink, wink, smile, vom::