So I spent Tuesday y Wednesday en Nueva Nueva workin' at the office. After gruelin'
[read as: surprisingly calm]
dayz, I met up wiff
Mr. Dahvid
to engage in some funtime outingz. Wednesday night, he treated me to a fabo show on Broadway
(which was dark that night)
. He took me to see a revival of dis old skool
[circa the Dinosaur Era aka 1947]
musical called
Finian's Rainbow
.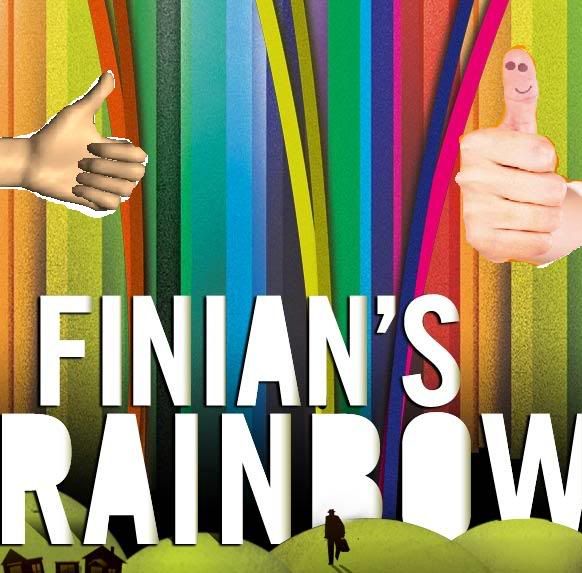 At first I was all lyke, "
Ug...is it all about gay schtuff?!
" to which I yawned...but it had nuffin' to do wiff dat! I'm not gonna spoil it's goodiez para tu, but in a brief synopsis, its about leprechauns, magic, love & friendshitz! It touchez on serial topix like racial injustice and monetary standing wiffout getting all "nightly newz" and being borrring & uneffective! The songz were fun, there was sexxxy dancing and dee actorz were incredz
(especially the sassy scene-stealer

Terri White

who once was a homeless lady living in Washington Square Park!)
.
Finian's Rainbow
is only the fifth Broadway show I've ever seen after
Les Misérables
(yay!)
,
Aida
(zzz!)
,
Phantom of the Opera
(

that's

the chandelier scene?!)
&
Rent
(funky & played-out)
. It was for def def defferz vundervill and I demand you see it pronto.

-----------------

Then I went to work Thurzday and did important grown-up tingz. After work, I was supposed to hang out wiff mi amigo de Nueva Nueva,
Mariel
, but she had to cancel. But since I packed an overnight bag for TWO nightz, I
had
to make up for the fact that I was lugging around half mah wardrobe through the streets on New York. So I called up
[read as: texted]
Dahvid and forced him to want to go to the movies wiff me. But since he is sickeningly motivated to do a million thingz every day, he had to each a yoga class when he got outta werk.
By the time he'd get outta teaching people how not to be lazzzy lardbuttz, we'd be able to catch a 9 o'clock movie. Yay! But being that I got out of work @ 5, I had to find a way to eat up four hours. Easy-peasy! I farted my azz on ova to a
Best Buy
and kibitzed about the store for an hour. I ended up buying
American Idol
season 8 winner
Kris Allen
's debut disco compacto!
I voted for dis dude when he was on the show and I am 100% certain that it's due to
Enrico
& I's votes that he won during the finale against that hideous, pretentious, dirt-clod
Lady GaGa
Adam Lamebert
. Yeah, yeah, yeah...All deez Adam Lamebert fanz
[read as: people who are easily amused wiff little musical taste]
are gloating about how
his
album is gonna sell better than Kris', and they are probz right! Still doesn't negate the fact that he's a glammerpussing, hott-bottom, head-titling cocoa-fist
[credit:

Deven Green

]
. Anyone that knowz me is aware that I am an
Idol
addict
(I need mah fix!)
and that I know more about it
than anyone ever, so therefore mah opinion is fact and Adam Glambert is indeed a crapsicle.
And since I have a sexxxytime crush on Kris & his
cute-as-a-cursed-button
voice, I just
had
to get his CD. And it's pretty good! It actually sounds like a
real
album as opposed to past
Idol
winners' cornballer debutz
[see:

Kelly Clarkson

's

Thankful

that is the definition of cheez-festival, though I

do

still lurrrve it!]
. The songz actually fall into that pseudo songwriter rock genre that
Maroon 5
&
Jason Mraz
seem to dance around in. First single "
Live Like We're Dying
" is catchy & lovely as is "
Written All Over My Face
" & "
Alright With Me
"
(which is fucking adorable)
. The disc also contains a full-length of Kris' fantastico cover of
Kanye Butthole
's "
Heartless
" that he performed back on
Idol
.
-----------------
After I spent 30 minz swooning over the stock footage of Kris sitting at a piano & holding a guitar in the CD booklet, I still had 3 horaz to kill till Dahvid stopped being dedicated to his jerb. So I walked a long-azz expanse of 23rd street until finally going to the theater. I sat in the lobby and watched the trailer of that movie
The Blind Side
. It's sure to be
awful
, no I was right the first time, awful, and it stars
Sandra Bullock
[feat. blond dye-jerb]
as some sassy mom wiff a heart of gold that helpzzzzz somzzzzzkidzzzzzzzzzzzzzzzzz
. I watched it approx 30 timez and memorized the whole fuzzing thing:
When I look around, all I see are people shooting da bull & drinkin' coffee!
" The only ting redeeming about this goofyass crap are the cameos by
Jack's Mannequin
&
Rob Thomas
songz during the preview.
Well, Dahvid finally got to da theater right @ nine and we were able to grab our seatz and partake in one of the best filmz I've seen in yearz. Yes, I
finally
saw
Precious
!
The movie was everyting I expected it to be and more. Yes,
Mo'Nique
should win an Oscar and
Gabourey
"How the hell do you pronounce mah name?"
Sidibe
deservez at least a nomination. I've read all the reviewz & talked at great length wiff Enricoskatez about it, so I anticipated some tearz. I didn't however expect to leave the theater being an inconsolable mess. It didn't just break mah heart, it ripped me limb from limb
like that douche
from
Shaun of the Dead
. It was expertly directed and was both incredibly devastating & undeniably uplifting. If you have any common sense
[feat. a beating heart]
you'll be getting your cholo bunz into the nearest theater and lurrrve it.
Yay for three awesome tingz! They made this week actually not suck too much!