I work in a restaurant. You all should be aware of that, what wiff my
occasional
constant complaining about not being able to land a
[non]
food service jerb. The establishment I work at is fantastic and I have been there for seven and a half yearz now. Like a second family, my co-workers have seen my dopey azz grow up and have been a constant grounding force for my otherwise manic life. I say all of this because I don't want this following post to at all hint that I am anyting but appreciative for my jerb and how lucky I am to not want to kill the people I work wiff.
No, this post is more focused on a specific aspect of my experiences in serving tables. Each Sunday, I usually work a double shift. Brunch + Dinner shiftz = Me, a disgruntled, exhausted grumpster who wants nuffin' more than to crawl into my bed like a spider into a sleeping infant's mouf. Sunday brunch in partix is mad chaotic what wiff all the God-lovin' peepz who get outta services circa noon and wander aimlessly around town until they find their way into my restaurant.
Without fail, the Sunday morning shift is always brimming with throngs of especially demanding, hungry cholitoz who expect their food to take no longer than 5 minutez to cook who also become inexplicably agitated at the fact that I
just might
have other patrons to attend to occasionally. And in this midst of running and jabbering and OJing and breading, there are always the certain few customers that are oblivious to my pain
(feat. suffering)
and desire to make mah life a sad, sad hellhole each and every Sunday.
These are the top five most aggravating tingz I got asked last Sunday
[aka the top five tingz that make me want to hurl mahself
Sylvia Plath
-style into the large bakery ovens]
:
"
Nuttin' ma'am. Absolutely everyting in this dump is absolutely dizzgusterz. Yes, I AM lying to you, but I am merely trying to expose the pointlessness of this question. The customer is alwayz right, so therefore every-fuzzing-thing you pester me about will be the greatest culinary creation ever to grace my tongue.
"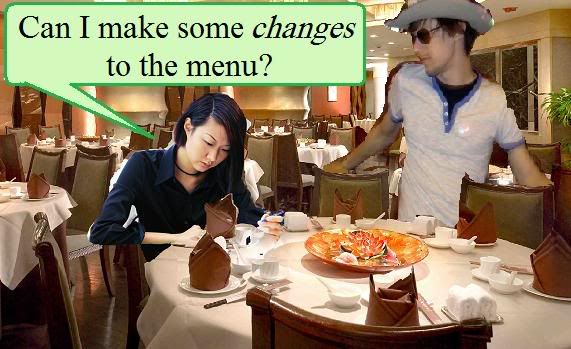 "
Of course! I'd lurrrve for you to keep me preoccupied @ your table with your shopping list of allergiez/taste specificationz/dietary restrictionz while all mah other customerz grow more and more hateful of me

[not you]
by the minute! And please make your demands as confusing as possible so the chefz in the back hate me and so you can pick apart everyting that's wrong wiff your fancy-pancy order when I finally bring it out.
"
"
Yes sir. It is quite hectic. Tanx for noticing, wasting my time taking the time to point out this obvious fact and doing nuffin' about it

[aka be an easy-going patron]

. I look forward to running lapz around your table only to have you leave me a 15% tip.
"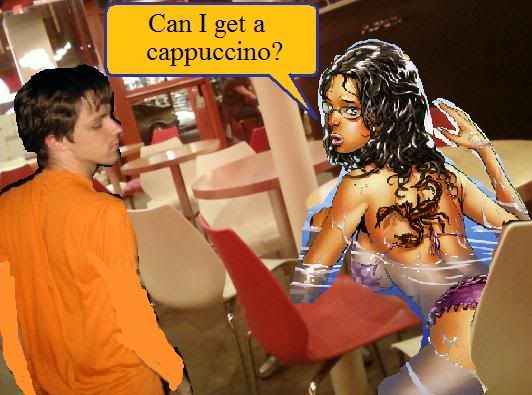 "
No! A cappuccino is not an acceptable excuse for a dessert! Plus the machine never workz properly, it takez three yearz to get the foam to froth, the steam burnz the skin off of mis manos and then you're goin' to have the audacity to expect FREE refillz of coffee afterwardz. I don't care if you're not hungerz anymore, spend $9 and get the key lime cheesecake instead! No work for me + higher bill!
"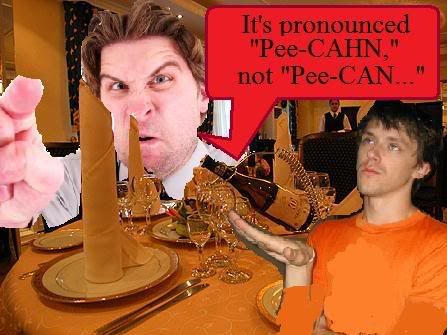 ::head explodez in fiery volcanic eruption::