I can't speak for all of mah derrrriciouz bloggy readerz, but I know that
I
spend a good amount of mah waking horaz daydreamin' about different fanciez of fame & stardom. Aside from imagining my fart-azz on the
American Idol
stage
wooing the population wiff mah vocalz
slaughtering the nation's collective eardrum, I often like to put myself into the storyline of some of my favorite moviez!
Hairspray
and
The Texas Chainsaw Massacre
have been big wastes of time for me
(polar oppositez, I know)
but I'd like to make it clear that I don't mean I've pretended to be acting in said filmz. I mean I've actually imagined my goofy rump shimmying & shaking on TV and being hunted by a psycho killer in real life. But as I reflect on the countless ficticious plotlinez that I have written myself into, I got to wondering...
If you could be in one movie, what would it be?
Horror filmz & musicals are two of my favo tingz in the entire world. Being scurred poopless and then bouncing along wiff a flamboyantly fabo soundtrack will constantly keep a smile on my face. So what would be the best kinda film to let me reach to durante mis sueños de diaz??? A combo of both of course! So therefore, if
I
had to be in any film, it would have to be...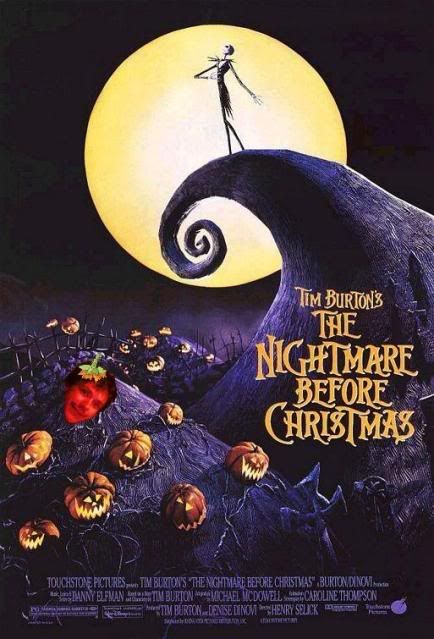 The Nightmare Before Christmas
Ok...so it isn't necessarily
scary
viewing it now as a 23 year-old, but back when I was 7, that shit did get mah little heart a-racing @ some partz. But then again, once all those demonz & ghoulz, witchez & werewolvez, corpses & monstaz got all
queerly fantastico
Broadway on my azz, I forgot my fears and fell in lurrrve!
I used to alwayz try and scare my family when I was younger. I'd set up "haunted housez" in my room and then drag my
un
enthusiastic padres in there with me to show them what I'd done. They knew the schtick and would humor me by running out screaming upon seeing my stuffed animalz posed like ghosts under my bedsheets. Well, anyone who has seen this flick will totally understand why it fit into my childhood's extracurricular activities.
But it wasn't just all the crazy trix & treatz that got me obsessed with this film. I imagined myself singing all of the songz and receiving a standing ovation. My favo tune to burp along too was "
Sally's Song
."
Sally
was totally the introspectively depressed female singer/songwriter of the
Nightmare
crew and her lamenting ode to her secret love, the studly
Jack Skellington
(swoon!)
, got mah over-emotional eyez heaving Niagara tearz all over the place.
I'd imagine myself befriending Jack and becoming his supadupa BFF. In my make-believe world, I would
provide council
for Jack and I'd force his bony bunz to get into that Sally ho's bed sooner so I could steal the melodramatic lovesick spotlight! My fantasy = My rulez! After he & Sally were happily married, I would then be free to mope and sorrowfully warble mah
Hotel Paper
-esque melodiez. I had a huge crush on the little devil man
Lock
and I would follow him around Halloweentown, watching as he went on frightfully romantic datez with his witch GF
Shock
.
So much heartbreak
! I would cry to myself in my little mausoleum bedroom, serenading the ratz and batz with my endless miseries.
::sighz::
Always the bridesmaid...never the bride!
::weep, weep::
But enough about my sickeningly in-depth childhood fakeriez! If
you
could live inside any movie, what would
you
pick?!