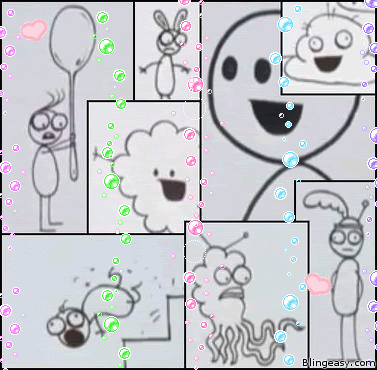 the 'Rejected' Cartoon
Back in high school, I was in a rock band. I played the bass guitar/keyboardz and my childhood best friend
Brian
played regular guitar. Wellz, our group
[named

Big American Party

]
recorded an album. Since Brian was/is an expert in the wayz of music recording/production and had all these fancy machines we'd play our instruments into, I'd often go over to his house after work/school and stay there till one en la mañana recording my parts for our songs.
Well, on our breakz when we grew tired
of being brave
recording heavenly auditory melodies and beatz, we'd fart about the interwebz and laugh ourselvez stupid over the dopey crap we'd find.
One night, Brian blessed mah life with the following video. It's a collection of silly little animationz that are bizarre and disturbing
[aka my favo two adjectivoz]
. Please enjoy
[read as: you

have

to cuz this was an

Oscar

-nominee and if you don't enjoy it, then I will believe you have 0% taste]
:






My favorite partz:
1:04:

Why does the banana feat. vacuum cleaner soundz?
1:47:

The cause of airborne swine flu.
2:18:

One of these things is not like the other! Ostracize him! Beat his nalgaz!
3:39:

Yay! Just like

The Fourth Kind

[aka sumfing I'm majorly hard for]

!
4:28:

The source of the infamous "infant cry" in

Aaliyah

's "

Are You That Somebody?

" (feat.

Timbaland

). Why is the baby named "Poopy?" Even as a nickname...NOT NORMAL!
5:43:

Mr. McMarsh'N'Mallow needz to get his sloppy azz some

Chipotlaway

! Or at least shove three ShamWowz down his trouserz while

Jill

givez him a tutorial on proper sanitary pad disposal:

fold it ova, wrap it up and put it in the nearest wastebasket...scary that I didn't even need to reference the video to recite that?
7:14:

The cartoons all get dragged to hell via apocalypse. Yay!

2012

!