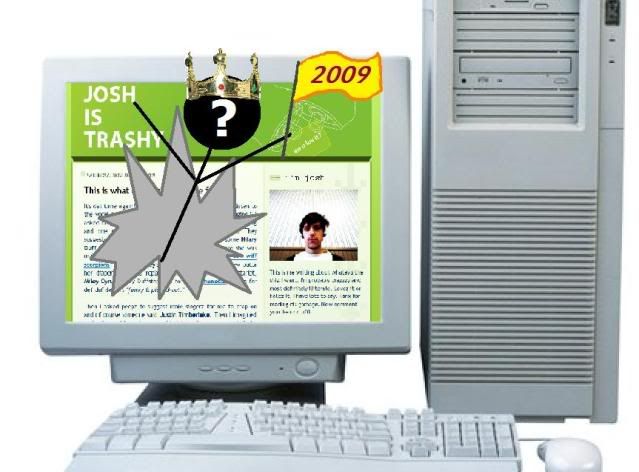 Any bloggy friend of mine, nuevo o viejo,
should
be familz with mah weekly
Monday Muse
features. Wellz, since I have yet to miss a week since I first started it last summer, I thought that it would be fun to take a look back @ all the gorge y fab peepz that have filled
my
our borrring azz Mondayz wiff so much wonder and excitement. And then I though, "
Well fuck, why not make a contest outta dis shit?
" So here we have it,
My Monday Muse
-
the

American Idol
Remix
! I've divided up my 23 musez into five sets of finalists. For the remaining Mondays in 2009, I will post these groups and allow all of yourvundervill readerz
[read as: how many of you are there? 10? 15?]
to pick your favo each week. It's almost like you folkz have a reason to exist!

[I kid, I kid...kinda...]
Then after a winner is chosen from those sets, it will go to the semi-finals...then the final two. The winner will get a special spot on the much coveted
[read as: probably ignored]
info bar on the right of
Josh Is Trashy
. Make sure you pick wisely...cuz you will have to stare @ the winna'z puss for all of 2010!
Now onto
this
week's contestants...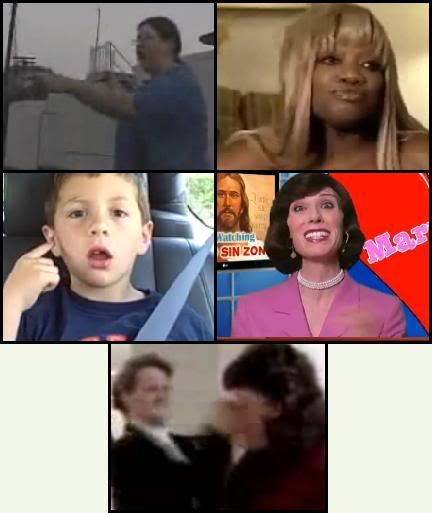 Screaming Parking Lot Behemoth
- Majestically irate beauty defending her home turf
[aka rando abandoned lot]
. She's just tired of photographerz that beat. on. her.



Rhonetta Johnson

- Talent like you've never seen in befo. She's sexxxy. She's different. And no, she don't want any of yo bubbly water.



the Totz of YouTube
- The shining futurez of tomorrow: High, terrified, violent & foul-moufed, they'll kick the azz of any monsta that gets in their way!



Deven Green

- Comedic geniuz who can teach you everyting you're too stupid to already know about STDz. Remember, if the guy seems suitable, put out!



Bitchez Gettin' Hurt

- They say laughter is the best medicine. If so, the physical and emotional pain of deez hoz should make dem your personal doctor. Oooowwwwwowooow!


Review these videoz above and cast ur vote! And feel free to comment and campaign for your favorite. Remember folkz, this is

really important

[read as: not in the slightest]

.