I know I am slightly stealing a page outta mah dearest friend
Enrico
's blog, but it was because of a
recent entry
of his that I am inspired to share an awkward situation that took place when I was a little tot. It was about 13 yearz ago when I was prox 10 years old. I was a quiet little gringo
[hard to believe, I know]
that usually kept to himself. I was

[and still am]

incredibly sensitivo and I cried all the time for basically no reason.
But still, I was me and that's all I could be!
One autumn, mi madre and her brother were kabitzing about an old friend of theirs from prox a million yearz ago and how he lives in Colorado but was visiting the East Coast later that month. They got in contact with him and set up a rendezvous where they could catch-up and gossip on timez gone by and reminiscent and all that old person crap.
Well a few weekz later, their friend came to visit and he met my entire familia. Being that I was only ten, I didn't really pay much attention to his existence and instead watched
Baywatch
in mah room wiff my sister for most of his visit. Though when my mom forced me to interact with him, I talked about the only thing I really knew to discuss with adults, and that's school. I distinctly remember making up some stuff I had been learning in my classes and that's when he took note of the cello that was gathering cobwebs in my bedroom.
Back story:
From 5th grade to my senior year in high school, I was a member of the
Hopewell Valley Regional School District
's orchestra. Out of no less than 8 cellists, I never progressed passed the second to last chair. I sucked and admit that I stayed in the orchestra for only two reasonz:
1.
It was an easy A.
2.
Each year we'd go on mildly amusing trips to places like Boston, Orlando and Six Flags: Great Adventure.
But when it came down to my talents @ cello-playing...well, let's just say that
Lindsay Lohan
's vocal abilities rival my skills at that cursed instrument.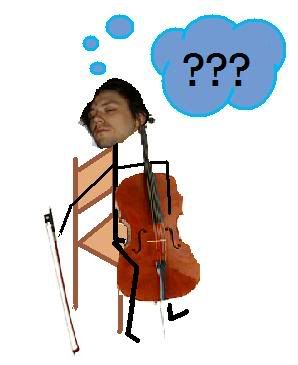 Wellz, he started asking me questions about my aspirations and I was all lyke "
the cello's okay, I guess
," tinking that mah blatant disregard for everything he was asking me would make it abundantly clear that I don't really care for the orchestra at all. Then he went back to talk about borrring stuff wiff my parents and I was able to get back to the TV just in time to catch
Supermarket Sweep
.
Flash forward two dayz. I was in my room being too cool
[read as: lame]
to be bothered with trivial things like "friendz" when I heard a knock at the door. I was all alone since my parents were at work and my sisters actually had lives, so I ran to see who was disturbing my
[non]

l
ife. It was the cello-dude. He asked me if I was alone and I stupidly was all like, "
Yeah
.
So?
" and he was all lyke "
Oh, do you want to go get ice cream with me?
"
In my head I was lyke, "
You stupid asshole, can't you tell that I'm busy trying to score 120 stars in

Super Mario 64

?! Plus, you're mega creepy and I'm ten fuzzing years old.
" But since I was shy and scared of speaking my mind, I prolly said sumfing like "
mumble, mumble...I'm sick or sleepy...errr, mumble...cry...whine, mumble
..." I eventually shut the door in his face and went back to saving
Princess Toadstool
's desperate whore-azz.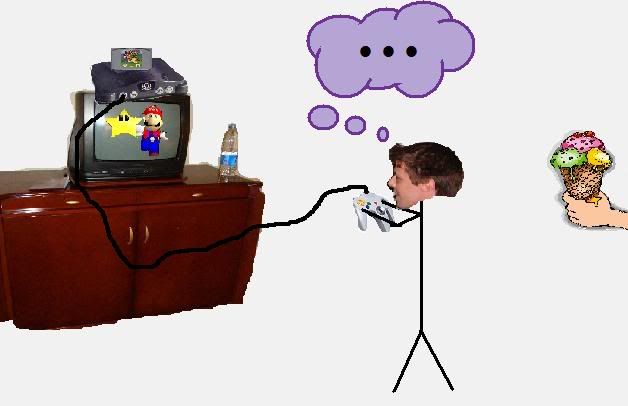 Then some monthz went by and I completely forgot that this dude even existed. My life had been progressing nicely
[read as: I had beaten

Mario 64

and had moved onto playing

Diddy Kong Racing

and

Star Fox 64

religiously]
. It was the holiday season and my familia received a Christmas card in the mail. I have tried to block this out of my mind due to how fucking bizarre it is, but the note scribbled in the card said sumfing along the linez of dis:
"
Hey Pages! Just wanted to wish you all a happy holiday...
"
Nice enough, right? Hold up, it gets for serial demented:
"
I was thinking about Josh and was wondering if he'd want to come enroll at a cello camp out here in Colorado. He could stay with me while he was out here. We could go skiing and snowboarding and have a great time getting to know each other better.
.."
I'm ten years old. And who the fuck are you again? And just in case my sickeningly disinterested tone throughout our first and last 5-minute conversation wasn't a big enough hint, I DON'T EVEN LIKE THE CELLO. But then he ended the note saying...

"
Take care Josh, hope to hear from you! Oh and P.S.: I've been working out!
"
HUH?!??!?! What? And if my parentz weren't alarmed enough at the fact that this holiday card had turned into a weirdly
obsessed
love letter to their young son, there was a little drawing scribbled at the bottom of the note. I assume it's supposed to he or I having a GrEaT FuCkInG TiMe SnOwBoArDiNg out at his rape-ranch in Colorado...I shit you not...this is
exactly
what it looked like:
So yeah. My dad freaked out and called him and said some tingz I can't even write
here
on
Josh Is Trashy
. And tank Jeebuz for that, cuz we never heard from that anus brigade ever again. And while it was terrifying while it was happening, in retrospect, I feel bad for that perverto. If you gotz to get ur rockz off to prepubescent little boyz who look like aliens and try to seduce them via testicular manipulationz of stick figures, then you for serial must be one DESPSERATE CHOLO. Get a life, and not one that's at all near me.