During my lengthy bus ride into Nueva Nueva during the week, I like to take note of the rando billboardz and ads hung up en route to and in the city. During the past week, I awoke right before entering the
Port Authority
to find mah peeperz staring confusedly at this ominious
Godzilla
-sized advertisement: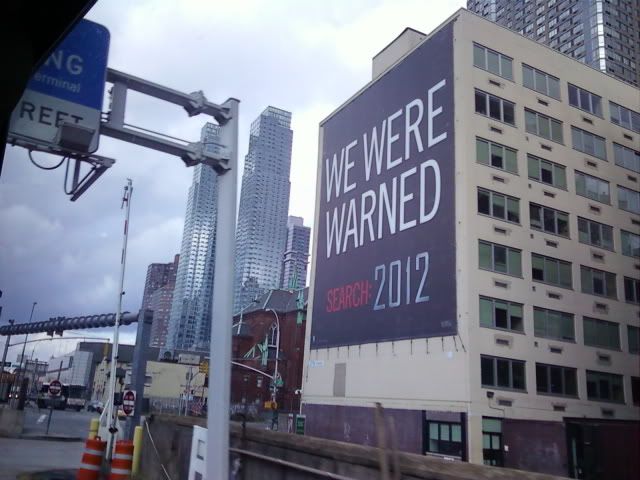 "
HUH?!
" I found mahself barking out loud
(thus waking up my slumbering neighbor)
. I immediately vommed in my mouf thinking that this was yet another alien/ginormous monster movie.
District 9
was the shit and
Cloverfield
gave me a week long erection, I don't need another fix in those regardz! But I did like the ad demanded of me and I searched "2012" when I got home.
Turnz out that this is when the world is gonna end. We're all gonna die when the Apocalypse begins on December 21st, 2012 and Hollywood has decided to make some money off of our fear before hand. Apparently
(and I'm basing this solely off of watching numerous trailerz online)
, a million comets will hit the Earth and tidal wavez will get us all wet/drowned and the Earth's crust will crack and
Justin Guarini
will release another album. Oh that last one seemz funny? That's just what
my
Apocalypse feelz like. I lurrrve mah ass some good Hollywood disaster moviez so
2012
is just what my demented heart has been waiting to spread its legz for! Seems that the producer of this film also produced and directed that awesomely inaccurate computer graphix wet dream known as
The Day After Tomorrow
which is more or less the exact same movie as
2012
.
I don't care though! Give me global catastrophe
[feat. juicy shots of famous landmarks being destroyed by storms/asteroids/tsunamis]
and I'm in brainless Hollywooooood heaven. Who is gonna go see it with me when it comez out November 13th?! Take a look @ this tragic yet awesome teaser trailer and
then
tell me that you aren't also soiling your loinz in excitement! Weeeee! Chaoz!