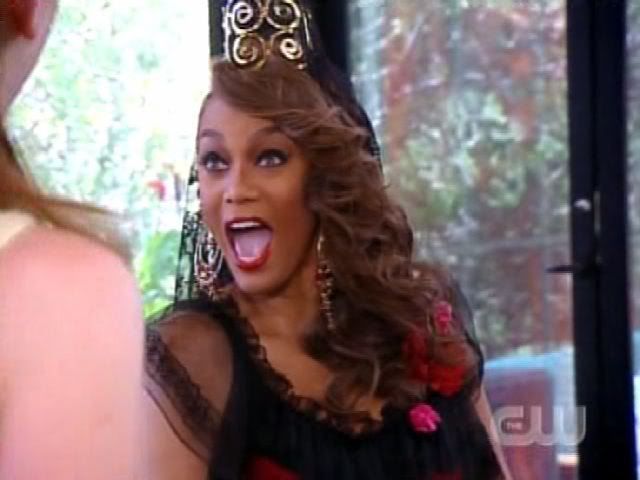 Tyra Banks


America's Next Top Model
is pretty much da most important ting on television ever, so it's no surprise that
Tyra "
Don't Call Me Fat!"
Banks
landed her crazzzy azz a daytime talky show. Basically she tries to be like
Oprah!
and have meaningful yet down-to-earth showz about kids with diseases and social injustice and blah blah. One time she had some of those nutbarz from the
West Boro Butthole Church
on and they called her a "
F*g enabler
." It was awkward and Tyra was all like "
Chut uh!
"
But this isn't why T. Bankz is being named
My Monday Muse
. Neither is her brilliant
[non]
hit single "
Shake Ya Body
." The reason she is being awarded my crown of approval is for her actionz during a GiFt GiVeAwAy she had during one episode of her show. Glaze your peeperz over dis:
I hope
Dry As Toast
has
another bloggy competition
so I can win Miss Tyra's
Super Duper No-Fail Skin-Saving Eye & Anything Cream
. After the mystery boxxxez are handed out and TYRAnnosaurus Rex screamz at the audience to "
opendemopendemopendemopendemopendemopendem
", we are shown the wonder that was her heavenly surprise nectar! Vaseline. Or as I uncomfortably refer to it as "Petroleum Jelly." Doesn't it sound like sumfing you would use to patch up leakz on your car's oil tank? But no, Tyra wantz you to smear that shiz all over your eyez and boobiez and anything. Just like prom night! But Chatterbox Banks apparently didn't use any of it the day this show was filmed; the bagz under eyes are so big I want to take her face with me to the super market and fill them with three weekz of groceriez!
Wellz, not only does she give that crap to everyone, but she bEdAzZleS it with dollar store glue-on sparkliez! I lurrrve how she lies and say they are worth one hundred buckaroonz. Yeah, try and sell that shit at a pawn shop and see if the store owner doesn't give you five consecutive eye-rollz after another. I love when she literally loses her shiz and barkz to the heavenz and goes galloping into the audience.
I tink I fell in lurrrve wif her sometime between her self-crucifixion on the floor and the campy little pose she givez while spinning the Vaseline around on her finga. For serial...the show turnz into the motherfuzzing
Exorcism of Emily Rose
. I guess I can kinda relate to her enthusiasm...like if someone gave me a years supply of
Caramel Cremes
or the first season of
Flavor of Love Girls: Charm School
on DVD, I might bug-a-boo and start neighing like a demon horse, but for Vaseline? OVEREXAGGERATION to the millionth power! Sure, Ty-Ty might use it mornin', noon and night
[chu guyz]
, but it's still just smelly lubricant.
Mah
wildest dreamz would for def def defferz not coooooome truuuuuuuuuuuuuuuuue.
Oh what am I saying? Chut uh Josh! You know if somebody thrust free ANYTHING at you that you'd faint over the pure excitement of it all. I should be applauding Tyra for creating this jelly charity for us. She's just trying to get us to reach our highest potential! She's
rooting for you
America! WE WERE ALL ROOTING FOR YOU!
[

P to da S:

Someone is a genius and illustrated this nuclear meltdown. Check it out HERE.]