I know, I know. I'm writing dis herre blog on a Tuesday, so therefor this should really be called "
My Tuesday Muse
," but let's be serial, the alliteration is cute. Yes, for the first time in forevz, I wasn't able to update on Monday, due to my heading to Nueva Nueva to go see the Goddess of mah life,
P!nk
, in concert. But that is for def def defferz gonna be featured in another entry! I don't want to take any of the glory away from my muse of this week who just so happenz ta be...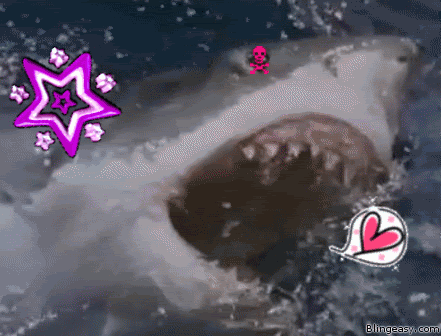 Sharks


And then
all you bloggy readerz instantly put on your perplexity caps and stare @ moi in confusion. But you can all pick the question markz outta ur brainz right dis instant and let me explain!
Sharks
are pretty effing rad. They cause fear (feat. destruction) to the world and are looked up for it! They eat people and rip off limbz and then are given their own fucking week on the
Discovery Channel
?! Sweet deal if you ask me.
But the sharks I am enamored with this week aren't the onez from those documentariez, nor are they the ones that are featured in the classic blockbuster
Jaws
. No, the sharks that mi corazon is flip-flopping for come from a much more special [read as: low-budgeted] place! Who needs $$$ for decent effects when you have remedial graphic design skills and a limitless amount of documentary B-role?! Clearly not the directorz of these genius workz of wonder:
Shark Attack 3: Megalodon
Yay! Bargain movie making @ its best! Let's point out why this is amazing:
1.
The size ratio of the shark stays completely congruent throughout each shot
[read as: not at all. How the fuck is it one minute only large enough to swallow one man whole, but then is instantly able to eat a raft full of peepz in one bite? Maybe they were all midgetz?]
2.
The guy in the helicopter does nuffin' but wear pepaw glassez and fly away.
3.
The expert acting skillz of the ho in the beginning. Firstly, I lurrrve how she says "
What?!
" @ :17 secondz. Then I love how she criez out in pain when the douche that stole her life jacket got nom-nommed by the shark. If I was her I wouldn't have cared about his dopey ass. I'd be all lyke, "
Serves you right dickstick! I hope you like being digested!
"
4.
The artard moron on the jetski makez no attempt to
not
go careening into the monsta'z gob.
Mega Shark vs. Giant Octopus
I just added this to mah
Netflix
after only seeing this one short clip. Seriously...what...the...FUZZ?! Who givez a shit if you're getting married in two dayz, dude? A FLYING SHARK IS ABOUT TO KILL UR AZZ FOR NO REASON @ ALL! If you
surf
around
[hah, funny]
on

YouTube

, you can find all sortz of clipz from this Oscar-snubbed cinematic masterpiece including one of the mEgA ShARk eating the Golden Gate Bridge. No, I'm not kidding.
I remember being scared titless during this movie when it first came out. This scene in particular was the effing shiz that had all us gringoz in the theater scream out like little betchez. Looking @ it now, I can't help but feel that the shark lookz like a giant shiny dildo with teefz. Weird? Yes.