I had a rough day @ work. I got stuck @ that crappy Intern computer that refuses to work and can't handle
YouTube
videoz or email. Of course this coincidez with my boss' wishes for me to search for performance clips for one of our clientz, resulting in me waiting 20 minutez for one effing video to load. I also woke up feeling groggy and sickly and even though I feel better now (tanx to downing 5
Emergen-C
z) it was still a bumma to wake up to a stuffy nose and a headache. Booo! Anywayz, while I was watching that damned spinning YouTube loading icon, I started reflecting on what my occupational aspirations were when I was a youthful tot. So therefor, I thought that dis herre installment of
Q+A!
should be...
What Did You Want To Grow Up To Be When You Were A Kid?


Nowadayz I feel like I have a grounded sense of what I want to accomplish en mi vida. Music publicity and/or book publishing are two careerz that I am for def def defferz working towardz. I would obviously like to become a published poet @ some point, but that won't happen till I'm either over 30 or dead, whichever comez first. Being a famous blogger is also idealistic, but that shiz is for totez not gonna happen
[fishing for complimentz!]
. But what about when I was a little goomba? What aspirationz did I hold for mi futura?! What did I crave wildly to become???
Teacher

Not creative, I know. But I tink that every child wanted to be a teacher @ one point or another. I used to have pretend crushez on my lady teacherz that I later realized was just me wishing that I was in their shoez and had the respect and power over a crowd of impressionable children. Someone piss you off?
Beat the shit outta them
Banish them to the office! Having a bad day? Force the children to rewrite all of
Les Miserables
! Feeling unwanted and worthless? Judge the students with harsh gradez and unfair criticismz! Yes, the tyrannical power that a teacher would have over his/her class alwayz appealed to me.
But only
elementary
school...get into those higher gradez and peepz start standing up for themselves and I'm not looking to start a fight. I'm just looking to bitch at those who are defenseless in an attempt to mask my own selfish desirez & insecuritiez! Weeeeee!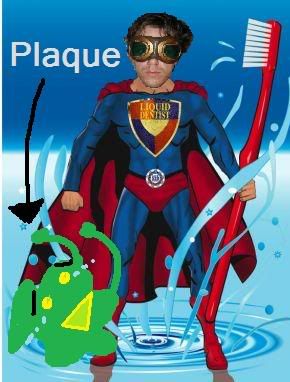 Dentist


I really can't seem to fathom why I ever fancied the notion of being a dentist. Like, I'm not terribly disgusted by looking down people's gargantaz, but it currently doesn't seem like a hobby that I'd like to pick up. I vaguely remember when I was a little kid that there was this assembly @ school where some choloz from a local dentistry came in to like teach us how to keep our chopz clean, or sumfing. Now, I never realized dental hygiene was part of the elementary school curricular, but I guess it must have been. An besidez, I'd rather spend my afternoon in the dark auditorium learning how to floss
[already know how to!]
than spend it in the classroom hearing about dead presidentz and math shit

[snorrrrrrrezzzzz]

.

I digress though! I remember after the assembly, my teacher handed out some dopey pamphlets about brushing yo teefz and there were cartoons on it of a dentist fighting some grotesquely drawn blob monsta that was supposed to be "plaque" with a toothpaste cannon and an over-sized brush. It seemed heroic and a great way to get people to praise you, so of course I filed dentistry away as a plausible future occupation/method to get famous and have people lurvvve me.
Hooker


Yes, I'm serious. When I was a little tot in middle school, I had the sick and morbid aspiration to sell my stupid azz out on the street. With my G-string in hand, some sparkly lip chap on my puss and my self-respect crying away in the gutter, NUFFIN' could stop me from taking over the world
[read as: the corner]
. And what you may ask led me to desire such an odd source of income? Television. Seriously...television. Okay, okay...I know.
Everyone
alwayz seems to blame every minute problem in the world on TV, but in dis case, it's true!
MTV
one time long, long ago had a documentary on that followed around this flippant little pixie of a dude who was what they call a "male escort." Basically that meanz "cum slave with no self-appreciation." The documentary showed the guy going out with ugly jerkoffz, getting arrested, crying and more or less just having a miserable existence. And in my wittle 13 year-old eyez, all I could tink of was "
Wow, that could be

me

!
"
Lucky for me, I didn't have the pelotaz to run away from home and evolve mahself into a streetwalker. As I got older, I eventually grew a brain and lessened my desires to be just a common stripper. Lately though, that dream too has diminished. Now all I do is dance around my empty house to "
She Wolf
" in my underooz and that pretty much kicks my fix to be a promiscuous slut. Oh, the wonderz of being a child. So many dreamz, so little time!
So what did
you
sexxxy readerz want to be when you were still picking your nose and crapping your pantz? Tell me your childhood ambitionz!