I almost died yesterday! Dear, dear bloggy friendz, it is only by a miracle of Gawd that I didn't get murdered. And who was it that was hungry for my soul?! This
terrifying devil angel of death
that was haunting the subway connection to the
Port Authority
in Nueva Nueva yesterday. As you folkz might know, one ting that absolutely terrifies me is "standing still." Someone could be chasing me with a chainsaw or trying to
Jeffrey Dahmer
mah existence and it would not be nearly as frightening as me being faced with someone that is just standing in front of me and staring. "
WHY ARE YOU JUST STANDING THERE?!
" is what I would shout before sprinting my stupid ass out of the house and into the protective bicepz of my [non-existent] boyfriend.
Anywayz, this monster succubus of crimson terror was posed in the subway and was oddly rotating back and forth without moving her legz. "
HOW ARE YOU MOVING?!
" I screamed in my head. She had a hat full of dinero in front of her blood-soaked wedding dress...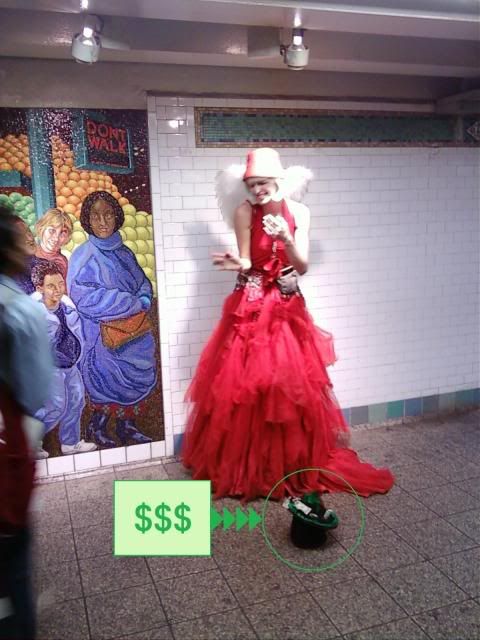 ...and rando peepz that clearly have bigger pelotaz than I approached her and put Washingtonz into it. As soon as they did, she would spring to life like a devil Jack-In-the-Box and pull out these little heart coinz from a satchel of hers. A defenseless and foolish little boy deposited some ching-ching into her sombrero and was given one of those cursed coinz. I thought for sure that little tot was gonna be
dragged to hell
...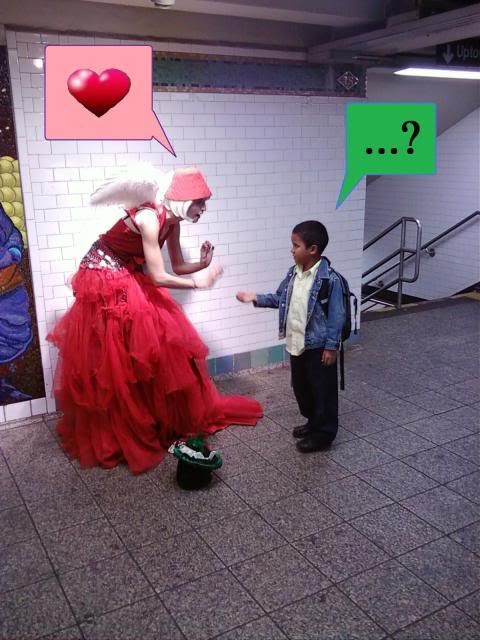 ...but he wasn't and his stupid parents giggled as he almost was murdered. I kept a safe distance and let everyone else flirt with el diablo. However, the most terrifying part was when she put her armz up and struck a Cholo pose...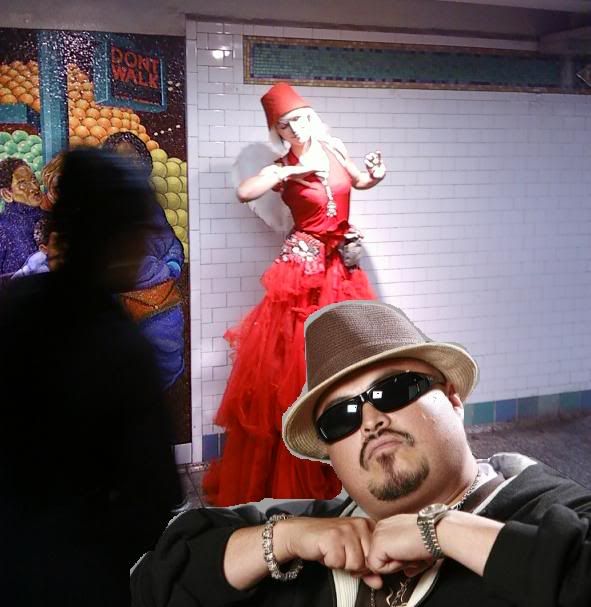 ...I ran away crying and found a police man and told him that people were being sacrificed by the devil. They arrested me for being a moron and beat me till I almost died. Then they threw me in jail and I weeped a lot. And then I went home and listened to
The Wreckers
. What an exciting day!
[note: the last part of this entry may be slightly fabricated. Well, not the going home and listening to The Wreckers part! They're soooooo good!]