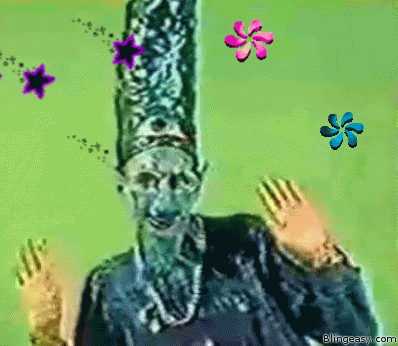 Pickle Surprise
Anyone that has read mah blog semi-frequently over the past few monthz would be able to deduce that I am a scare-D-cat. I get frightened easily, anxious at a
coin flip and twitchy while driving. Yet nothing I've ever been faced with has filled me with as much fear and confusion as the infamous
Pickle Surprise
.
The video was made by some guy @ some point in time...blah blah blah who givez two shetz? All I care about is the terror that it forceably insertz into my heart. IT SCAREZ THE DUMPZ OUTTA ME! Like, drag queenz are terrifying. We all know that and we all accept it. Yet we still find ourselves laughing @ their anticz and poorly out of tune karaoke. And while there are spooky drag queenz in this aforeposted video, the most upsetting part is the drag pickle.
Pumping up from the depthz of hell like an atomic cornichon of death, Mr. Pickle Surprise's gorg
Adam Lambert
makeup and sparkletastic gold glovez, make his entrance in to my life a monumentally confusing moment that I will always cherish. And by "cherish" I mean "drink to the point of forgetting that it ever existed." And I'm all for derriciouz snacks (feat. Mah favo #1 condiment, MAYO), but the inclusion of the
Ham Mantra
just upset me to the point of heaving. Oh and why the taint does that one cholita'z mouth emit the sounds of a toilet bowl flushing?
I would write more, but that video
needs
to be viewed to full comprehend how mind-numbingly brillz it is. I hope you aren't too incredibly distraught/and/or blind.