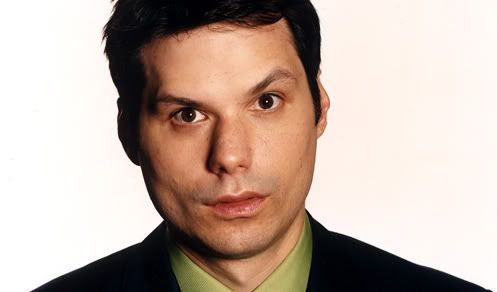 Anyone that is effing rad will know who this fellow is in diz picture. He's one of my favo peepz in the entire world. His name is
Motha Fucking Michael Ian Black
and he's funnier than you. He's this comedian cholo who was all over those
I Love the ______
showz that
VH1
churned out like whores from
Flavor Of Love
. He was also in that
Wet Hot American Summer
movie that I never saw [apparently he does the nasty boy tango with some dude in it ::Netflixed!::]. Anywayz, he is hilarious and I start peeing mahself whenever I see his cute little puss on TV or in my dreamz.
Wellz, I was in Brooklez two weeks ago. I was sent on some errands from my boss and was told to go to da B&N down a few blocks from the office. I strutted my nalgaz down there (while listening to "
Battlefield
"...durhz!) and when I got there I noticed a large display of non-fiction essay books right by the entrance. Considering that I just finished the cutesy fairytale of sunshine known as "
No Country For Old Men
" on the bus ride in, I needed a new book to read. Well, I came across a treasured piece of gold among all the other shit that was piled there [all the other books are "shit" largely because
I
didn't write dem]. And that glorious nugget of fortune was Michael Ian Black's collection of short
humorous
ass-splitting essayz called "
My Custom Van
." Of course I shelled out the whore dinero I made the night before ($15.99) and purchazed it!
And let me tell you silly gringoz sumfing...TWAS. DA. BEST. PURCHASE. OF. MAH. LIFE! I read half of it en route home that day and numerous timez disturbed the morbidly obese sleeping man that was sitting next to me with my young and vivacious laughter. His writing reminded me of my own, just in that it's vile, crude and unapologetically ruthless [main difference though is that
he
is a
published author
while
I
am just a
douche pretzel
]. Anywho, I recommend you check it out before I kill you. Here are some quotez to entice you:
"
Perhaps you will think I am naive, just another optimistic teenager who believes he can change the world. So be it. If that is the case, I say, 'Just watch me achieve my goals!'
"
"
Guess what? I'm having a taco party, and you're fucking invited
."
"
Vampires will need a place to sleep during daylight. Plus, they will be killing people. These two factors will combine to make the coffin industry a profitable one indeed.
"
"
We will join forces in not caring, you and I. We will eat our forceful sandwiches and watch the small, pregnant carnival-goers injure themselves...
"
"
I have always found struggling robots funny.
"
"
Sure, you might get some funny looks, but you'll be the one laughing when they are dead on the mountain while you're kicking back with a cup of fruit salad at the lodge.
"
"
When your Chocolate Wave arrives, spoon some of that gooey concoction into her mouth and say, 'I wish this gooey concoction was my wang, and I wish your mouth was your butt.'
"
"
Then she told me that I was most likely a Crystal Child from another dimension, which made me feel confused.
"
"
But maybe I'm just not outrageous enough to play a video game on a website for corn chips.
"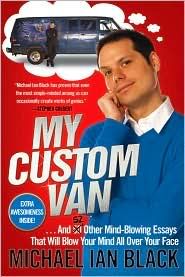 GO GET IT [LOVE IT]!!!