My sister
Melody
is extremely talented and it pissez the snot outta me. She's been drawing ever since the world came into existence [aka my first burfday] and she has really put all the chicken-scratching to good use! She stole a college degree from someone with the same name as her and conned her way into a publishing jerb en la ciudad de Nueva Nueva.
Oh I kid, I kid. Har har! I'm funnerz. For serial, she's an incredible artist and her fiancé,
John
is also quite skilled, focusing his talents on grafitti-inspired work. Well, the two of them teamed up to make me feel umotivated and worthless and put on an art show. And hooray! It was wundavill! It was yesterday in

Red Bank

, New Jerzee at this cute little book & art "cafe."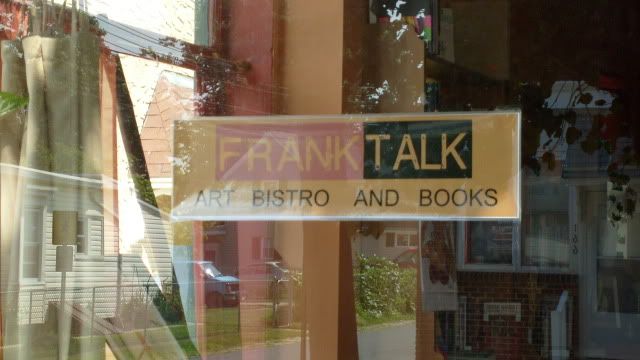 I met up with my family early in the day and we drove to Red Bank to be the supportive nucleus that everyone wantz to be a part of. Our main direction given to us by my sista was that the bookstore was across the street from a pale yellow church. I naturally scoffed @ such a vague comment and made numerous jokez about how we'd have to turn left at the broken-down Chevy and ask Glinden, the hooker of Marshall's Corner, to direct us the rest of the way...but I fucking deep-throated my wordz when we actually did stumble upon said church, and thusly mah sister's show. Fuck off me.

As we approached the store I noticed that one of my sis' pieces was actually sitting in the display window:

When we were done oogling the window display, we ventured inside to begin ruthlessly criticizing the rest of their work...but to our surprise, there was nothing find fault with! And for
me
to not be able to find something to bitch about...well that is quite an accomplishment. Here is a look at some of Melody's arte fantastico: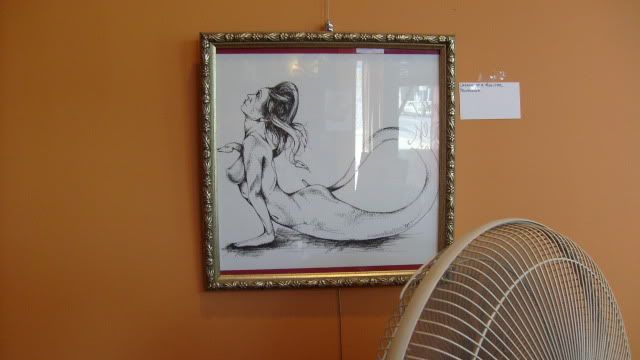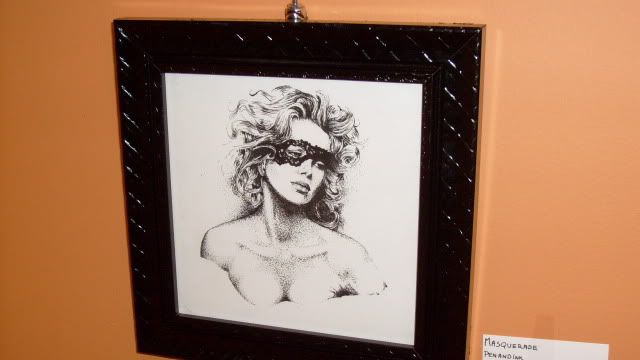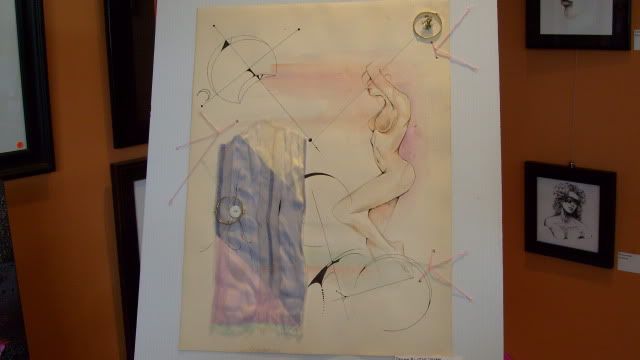 I also adore John's work to boot. Not sure if y'all remember (or care enough to remember) but back when I gave a "
tour
" of my house, but in one of the shots of my room you can see
a painting sitting on my dresser
of a robot. John did it and bequeathed it to me as a burfday present two yearz ago! Very modern and very awesome, I adore his work for its strangeness and its admirable execution. Here are a few shots of his work:
I even helped with one of the pieces! My sister asked me to look @ two drawings she had been working on and put my creative writing minor to good use and construct a poem inspired by them. She imprinted my poem on the drawing and it came out really great! You can't really read it in the photo, but it's there!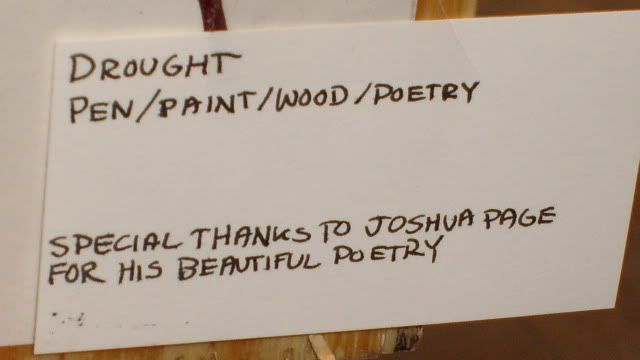 A good time was had by all. My sister and [future] bro-in-law were able to display their work (and even sell a few piecez!). I drank five glasses of wine. Yay! Here is a picture of mi hermana y yo in front of our collabo piece -- and yes, I know I look uncomferz and high:

My sister checks my blog semi-regularly, so leave her a comment and tell her what you tink of her shiz! Also, check out her
Flickr
page
HERE
. Oh, and
HERE
is John's page as well. Apparently "thetruthcomesout" featurez a quote that yours truly said once in regards to an ex of mine. Whoopz! BLACKMAIL!