So Gawd must have eaten a whole field of laxative-coated strawberries two nightz ago or chugged three gallonz of beerz, cuz those are the only two logical explanationz as to why the sky diarrhead over all of the east coast yesterday. Like, some rainstormz are fine. Even a torrential downpour occasionally, I can deal. But when it startz to vom Niagra Fall-caliber raindropz for 6 horaz straight, I start to get aggravated.
It was Wednesday, so I was up in Nueva Nueva doing my city thang and workin' for the man every night and day. Wellz, about 3 in the afternoon, cloudz starting exploding and dumping their placenta deluxe all over the place. But I (foolishly) thought to mahself, "
Don't worry gringo, you have another three horaz till you book it, and by then the rain for most supa serial will have dissipated.
" Well...I was fucking wrong. It was still pouring and I took the subway, fearing the worst as it approached Times Square and I walked my timid behind over to the Port Authority.
And then I died. Walking up to the fourth floor gatez (where my bus is), I couldn't believe my twitching little ojoz. There were linez to each gate scaling back two to three bus loads. Then I saw the line for Gate 419 (aka mine) and it was ten thousand yearz long and I died again and was resurrected and then cried. So I placed mis nalgaz in the queue and observed the numerous hundred other peepz crowded up around me. Everyone was bitching about having to wait and while I am
all for
complaining all the time about everyting, I hate hearing other people do it.

CHUT UP! I know it sux being here, but you slapping your dopey lipz about it and shaking your sweaty mop of a head in my direction isn't going to make it any better...bitchtitz.
People started shoving each other like cattle, like there is anywhere to go, and some old lady started screaming about someone elbowing her in the face and while I would laugh hysterically any other day @ that, all I could do in my terrified/upset state was stare ahead and ignored everyone. At one point I tried to make frustrated eye rollz with this cute guy two linez over but I tink he was straight and a wannabe rapper, so he ignored my desperate eye-fuck advancez. Then I watched two mexicanoz chow down on each other'z facez and bite their tongues and erupt in kissmania and shit and I vommed out of jealousy. This is a picture of the mob de angry impatient choloz @ the Port Authority: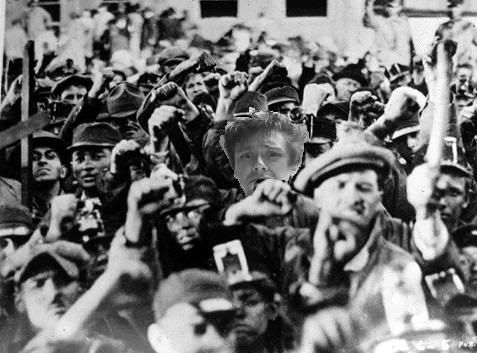 Finally a bus opened up and by the time my dopey butt squirmed it's way to the entry point, there was standing room only, or else you'd have to wait 3.5 billion horaz for the next one. Considering that it was already an hour and a half after the shuttle was supposed to dump our asses off @ their designated stopz, I decided to suck it up and stand...for the hour and twenty minute bus ride. Long story short: It sucked, my armz hurt and I spent the majority of the trip trying not to pass out and watching this old AZN lady sitting in the row I was standing next to as she slowly started to fall asleep and slide her way outta the seat and into the aisle. Haha! If bitch completely exited the chair I was totez gonna plop my bunz down in there and tell her to go eff off if/when she woke up.
[Oh who am I kidding? I'd say I'm sorry and graciously let her back in.]
Then I got to the bus station and drove 10 MPH all the way home cuz it was

still

torrential shitpouring. It stopped by the time I got home and I entered the kitchen to find a piece of chocolate & mantequilla de cacahuatez cake left for me by

Shawn

.

That

pretty much made my life better. Until I vommed it up later cuz you know...I have to keep my girlish figure.