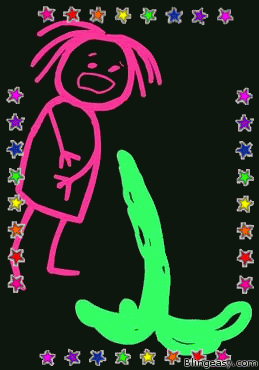 We all were kidz @ one time, and we all had problemz that seemed unbelievably dificil. No one uNdERstOod us! Life waz so hawd and unfair and we were les miserabez and hated everything. But, unless you're me, you've grown out of this phase and realized what an annoying prick you actually were and how easy ur life actually was. And what better way to reflect on how obnoxious and stupid you once were than to reread old journal entriez that you wrote back during those simpler dayz? Well, this entry of
My Monday Muse
is dedicated to the art of the childhood diary and how wonderfully embarrassing it truly is.
A long while ago, I stumbled upon a short collection of flash animations based around some chick named
Amy
and her silly little
diary
dairy entriez. Basic and candid, they frrealz had me cracking up at some partz.
CHECK THEM OUT
, GRINGOZ! My favo is the December 17th entry, cuz who
hasn't
been at a birthday party just to have it ruined by a stampede of screaming babiez?! I also remember when I was a tot, and I also had the misfortune of only being given three horsey back ridez when I clearly wanted four! BoYz ARe sO stoOoOpidZ!
Well, after looking through the glory that was this little girl's anger, fear and private thoughtz, I thought I would venture back to my pitiful high school dayz and share with all you bloggy friendz
my
My-Diary
[entitled "
No Name Face
"...tanx
Lifehouse
(feat. my faux introspective youth)]. Written between October 2002 and August 2003, it's filled with pointless meanderingz, unvalidated anger, entries comprised solely of
(

Michelle Branch

)
song lyrix and yearning odez to the several crushez I had throughout those terrible yearz. Since I was a stupid closeted cholo, I never really referred to my crushes with proper pronouns or namez, but instead talked about da two boiz I liked with the [oh so clever] aliases
X
and
Y
. Well, I shall leave you with some of
my
favorite quotez extracted from this goldmine of blackmailing goodness. Share with me some of your favorite quotes from either Amy or I's journalz!
"

Jordan told me something very important today. She told me to not get so upset over a test grade.

"

"Here are some more lyrics that remind me of "X". It makes me sad to read them and think about "X"... :-("



"

G

od...I hate it when people are assholes. Stupid slut, I hope she goes online and stumbles upon this diary, so she can read about how much she blows.

"

"

Ms. Morse broke

my cello by ripping off one of the strings. YES!!!

"

"

I wanted to go to prom with this girl I know, but she is

going with someone else. It kinda got me down, and my
friends are tellnig me to just go with
"the group", but th

at is stupid.

"

"

Oh...we also put oranges underneath some guys car, but he didn't crush them! Asshole.

"

"

I

f "Y" wanted to...I would totally be having sex

r

ight now! LOL!

"

"

I didn't

f

ully understand....but that was cuz I was in a sassy mood.

"

"

Anyway, I am an idiot and left my cell phone in the kitchen, so I have to go back
there...wish me luck!....ttyl.

"