...anybody with half an eye would see I didn't have a brain in my head.
Lately my mind has been stuck in a proverbial rut. To say I've been depresserz would be an understatement, with my thoughtz swimming through a mess of confusion about my life, my world and my future. Not to be a huge Joshie Downer, but I thought I would spend this entry discussing theez tingz that have been bothering me.
I hate to say that the root of my problemz comes from being gay, but eff it. A lot of them come from being gay. I have been alone since January and while that may not seem like long when compared with others who have being living sin compañero for yearz, for me it's a change that I am having a difficulty coping with. An overwhelming sense of loneliness seems to be branching out of my time spent alone and it's be causing me mad stress and keeping me up at night. I miss the companionship of not only friends and family that I don't see as often as I'd like, but of a more intimate partner.
Now as anyone who has done the gay club scene can tell you, there is never a lack of dudez looking for "
part-time
" coupling and a cheap thrill or six. But I've begun to realize that my scope for potential partnaz is a small and condensed one. Thinking about on the countless number of gayz I have met in my life, if I had to list the ones that I actually would want to have pursued a relationship with, the list would probably be...hmm...lemme think...3? 4? And thus displayz my agony:
A)
I hate being alone, but
B)
I'm picky and particular when it comez to matez. My love life is obnoxiously mutually exclusive!
I am throwing in my "Z-play" into this entry to keep it light-hearted, but my seriousness is for truth. I feel this overwhelming sense of frustration that is based around this idea that I have met all the men I will ever meet in my life that will ever make me want to be in love. And while I know I am only 23 and while I know how silly it sounds to proclaim such lofty and nutty statements like the one I just said, I still can't argue with my brain when it tells me this.
I've alwayz been a sensitive little sprout. When I was in elementary school, I remember being yanked out of morning circle to sit in the guidance counselor's office. She wasn't the normal counselor though...she was some Emotional Training counselor who's office consisted of a desk and two folding chairs shoved unfittingly into a slop closet. I would sit in one chair, and she in the other as she would make me close my eyez and imagine clouds and shet. I don't remember the point of her pseudo-hypnotism, but I think it had to do with trying to get me to stop crying all the time. And I did cry all the time. I distinctly remember having a sore throat one class and being embarrassed at being called on and having a scratchy voice. What the hell?! Who doez that? Apparently 8 year-old me, that's whooooo.
Anywayz, as I grew up I became emotionally stronger, yet I could always tell that my thought-process was also much more delicate than that of my peerz. Anxiety and self-deprecation plagued me throughout college and have begun to reach a peak during the past few monthz. I would say that my life, on paper, is pretty decent at the moment. I have two jobs (one to pay for the bills and one to give me professional experience), a great deal of loving friends, a wonderful family, my health, my education, my penis, my talents (yeah...I do have some...I think)...so why do I still find myself getting so darned blue? I look to my future and get scared of what it holds. But not just a "oooh...growing up is hard!" kinda scared. I mean, sometimes it's a crippling fright that causes me to bug-a-boo and start to shake. This fright leads to a slight desperation which then leadz to self-pity and loneliness. Then I get so tired from thinking too much that I eventually pass out for a day and feel better when I awake.
Now you tell me folkz:
Am I crazzzy?
I also hate people to ask cheerfully how you are when they know you're feeling like hell and expect you to say 'Fine.'
Coinciding with all of this internal fistfighting, I decided that it was a good idea to start reading
Sylvia Plath
's
The Bell Jar
cuz you know...that's not really sad o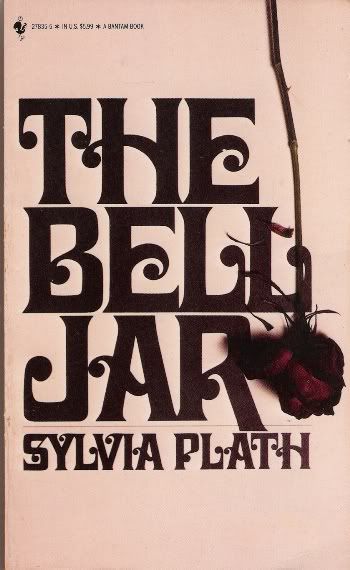 r anything. Now, at first I didn't see what all the hubbub was about this book being mad depresserz...but halfway through...Forgetzaboutit! I won't write a synopsis of the book for ya, since you
all
should read it as soon as you finish this entry, but let's just say that I found myself feeling many of the tingz that the narrator
Esther Greenwood
seemz to experience throughout the expanse of the book.
[Let me cut you off mid-thought: NO! I haven't tried to kill mahself, don't worry.]
A troubled
young girl, she is faced with the difficultiez of finding oneself happy in a cold, difficult, unwelcoming mundo. Her candid honesty was
quite appealing and one of my favorite partz of the story:
"
...her cornhusk voice made me want to puke.
"
However, as I finished the book and talked to a few friends about these issuez that have been bothering me, I feel as though the "bell jar" has been lifted a bit to allow me some fresh air to breathe. While I think I could very well be crazzzy, I'm going to try and convince mahself that, yes the world may be a monstrous place, but the only thing we can do as people is deal with it and move on. I don't want to waste more time being needlessly sad. I'm dunzo.

How did I know that someday-at college, in Europe, somewhere, anywhere- the bell jar, with it's stifling distortions, wouldn't descend again?