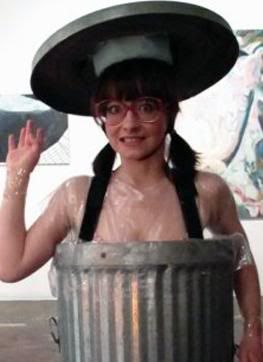 I feel like my life is being overrun with hispterz. Those who follow the mantra of being
Kookie for Kookie's Sake
and wear clothes that seem just a little too eccentric for anyone's good while listening to whatever obscure underground BS muzak that there friends don't know about yet. And the self-importance! Like through their absurditiez they hope to disrupt the social normz of today, they are like punks (who rebelled against authorative control) only with less of a purpose. And the picturez! If I counted the number of timez I wanted to vomz while looking @ pictures on
Facebook
of random hipsters drinking their
Pabst
and posing in
goofy
ugly outfits while remaining completely and utterly ambiguous in gender and sexuality then I'd not only have to start counting on
my
toez...but yours as well!
But for the longest time I thought I was alone in my disgust for the hipster psuedo-artistic elitist bullshiz that seems to be in infecting my generation, but alas! There is a light @ the end of the tunnel! My dahling
Xtina
has turned me onto yet another genius website devoted to calling out these vinyl-buying, body paint-wearing, Black & Mild-toking writer-wannabeeeeez.
Look At This Fucking Hipster.com
is
being inducted today to my prestigious
Blog Roll
today due to its ability to accurately and effectively unearth the headachey and irritating tomfoolery of these facade wearing douchfacez. Check. It. Out!
[

P to da S:

That ho above would totez be the new

Josh is Trashy

mascot if she wasn't such a major loser toolbox.]