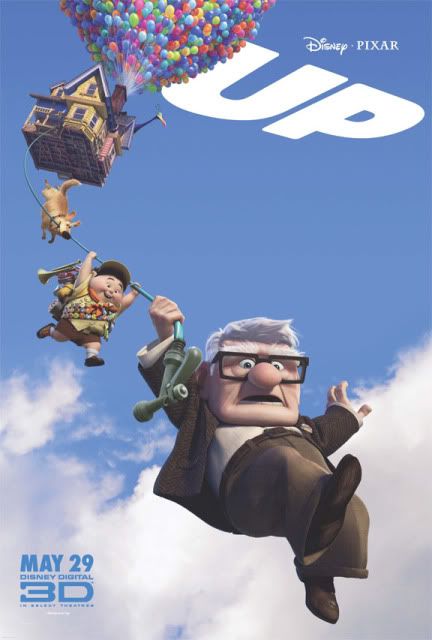 I went to the moviez for the first time in a million years last night and I was stuck between seeing the violently mouth-watering
Drag Me To Hell
or the cutesy
animated love child of
Disney
and
Pixar
,
Up
.
I ended up seeing the latter, and may I just say that I am quite pleased with my decision to fork over the $13 to not only
see
the film, but
experience
it in 3-D (look out! here comez da future!).
Now I honestly knew nothing about the film at all. Having more or less no access to television, I had seen no advertisements for it and only learned of its existence through my habitual stalking of
MetaCritic
. The playful image of man + fat kid + goofy dog + balloon house intrigued and confuzerd me, thus sparking my interest. And now, after having seen it, I am both pleasantly surprised and terribly depressed by what I have witnessed.
I won't be a spoil-monster and give away the plot of the movie or any shiz like that, but let me just say that this film made me more sad newz bears than any of the past 10 live-action dramaz I have seen combined. Apparently Disney is still all about scarring its adolecent customers with embedded themes of death and forced separation, and
Up
was chock-full of things solely designed to try and make me cry. Throw in some long-running metaphors and imagery and you're all set with a piece of film angled at making my eyez explode with tears.
But maybe I am just a sappy bastardo. Every site or review I read about the movie praises it for being a great family flick...but all I know is that if
I
was a tatertot and my parents took me to see this film, my delicate adolescent mind wouldn't be able to handle its plethora of sadness and consquentially shut down like
Fergie
's bladder does on stage.
Would I recommend it? Definitely, but not without some other advisement to prepare your virginal minds for extreme meloncholy. Well, time for me to fall asleep and imagine a world where animated films are 100% perfect fun without a single notion of anything important or
depressing
normal!
::snore::
It's the boring things I remember the most.