Okay, aside from
Oatmeal Creme Pies
&
Fla-Vor-Ice
, the most wonderfully derricious snack that any one us remember from our childhoodz is the shining beacon of artificial fruit flavored heaven pictured above. I am ulta supa MegaMan serial when I say that I have for probz consumed more packets of
Shark Bites
fruit snax than real fruit in my entire life. Planning for my 21st burfday, I used to take Shark Bites shotz where I would empty an entire bag into my gullet in one upward motion and then beg my disgusted madre for more. I would down that shiz like a prostiwhore downz the special sauce in exchange for coke, that she downz even faster.
But wait! Let's all discuss something. There were five colorz that those magnificent little gummy fish came in. Red, Yellow, Orange, Purple...and White. Now to any fruit snack connoisseur, the first four colors all have obvious corresponding fruit partners (though with Shark Bites, Yellow for some reason standz for Strawberry). But what about White? Unless
Betty Crocker
decided to get fucking tropical on our adolescent asses and include coconut as a flavor, I didn't have an inkling of what that damn little great white could possibly be. It is, however, the most derricious of all five snacks. Thus further perplexing my little gringo mind. I can't even ignore them and act like I don't care what that mouth-watering flava is! So after some crying and 15 years of mulling it over, I finally decided to search for an answer.
I thought I'd get right to the bottom of thingz and ask the most obvious of sources for a clue into this astounding conundrum: a
Great White Shark
. Here's how it went down via an
MS Paint
artistic rendering: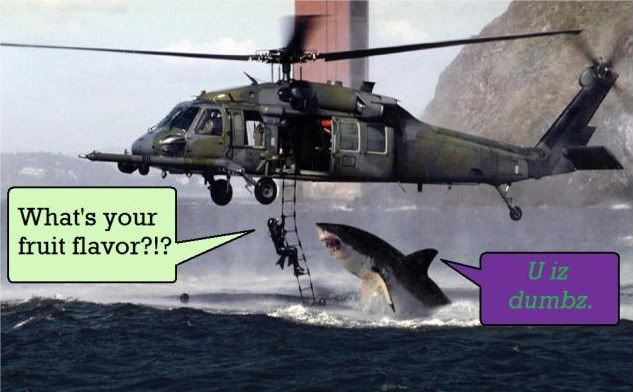 After that resulted in a near fatal bite on mah taint, I thought maybe I'd try a more peaceful and resourceful route. For durhz,
Wikipedia
! So to my great delight, someone else in the world loves those tasty little babiez as much as me [if not more!] and created a
Wiki page
for it. My flavor findingz resulted in some complex answers that can only be fully explained via another MS Paint diagram:
WHAT?! Wikierz?! You too shall fail me? "Mystery Flavor"?!?!?! That's some effing bullshit right there. I want answerz...not that ambiguous mystery malarkey. These aren't
DumDumz
! These are effing Shark Bites and the their box boasts 100% Vitamin C & Real Fruit!
So while I was sitting here, at my local coffee shop, pissing myself with anger, I decide to get something to drink. And little did I know that this urge of thirst would answer all my problemz. I buy my beverage, and like a heavenly lump of Shark Bites being dumped down my throat, the answers comes to me.
Nantucket Nectars:

Pomegranate Pear
is the mystery flavor of the elusive Great White Shark! The taste is exacterz the same and I ended up buying another bottle of it, just to test my theory and make sure that this wasn't a mind trick or a faulty bottle.
Glorious dayz are upon us, my beautiful children! The mystery is solved. That's some
Da Vinci Code
shit right thurr! I hope you all are proud of me and that you can all sleep a little sounder @ da nighttime.
[
P 2 da S:
Donationz of Shark Bites in thanks for my discovery are appreciated and expected.
]