Back when I was a little turd-festival during the spring of 2000, I remember receiving
No Doubt
's fantastic though grossly overlooked album
Return of Saturn
for E-Stir [yeah, my family exchanged CDs for the bunny holiday]. The whole disc is fabz but I remember being particularly attached to the raw emotion and blatant irritation of the brilliant single "Ex-Girlfriend". Now, since this was when I was a little pre-sexed awkward tween, I didn't necessarily understand the full angst of what Ms.
Stefani
was singing about, but now being a much older, wiser, sexed-over and jaded gentleman, I have a newly found appreciation for it.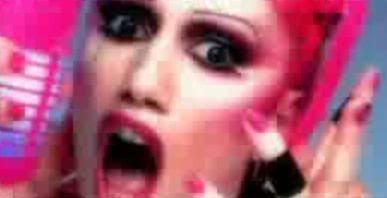 And the video is
EPIC
. Gwen looks like a cyberpunk robot-alien hybrid rocking a gross pink weave.
Tony Kanal
is hot with his bass,
I'mafuckyou
eyez & 10-inch penis. The drummer looks like a hairless version of that
Muppet
drummer
Animal
. Gwen makes some pretty deformed faces thoughout the whole ordeal [
see above
] and throws both her ex and herself out of a bathroom window on the 205th floor of some building [something I've wanted to do many times before]. There's also some fighting, crazy lighting, concert shots and a fake mustache. Lovez it!
We keep repeating mistakes for souvenirs
and we've been in between these days for years.
And I know that when I see you, I'm going to die.
I know I'm going to want you and you know why.
It's going to kill me to see you with the next
girl
boy,
'cuz I'm the most gorgeously jealous kind of
ex-girl
ex-boy.
But I should have thought of that before we kissed.